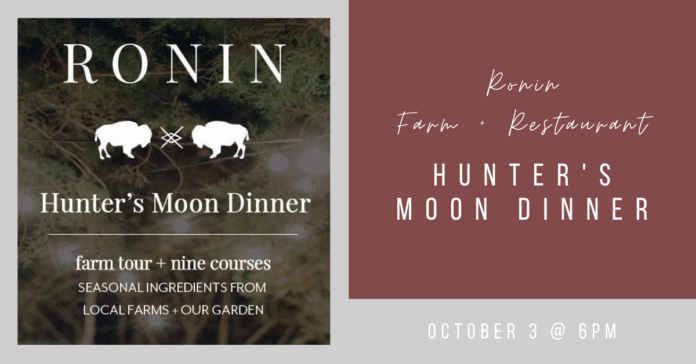 Here in BCS, October is the month when we're beginning to have pleasant outdoor temps, and what better reason to get outdoors than fine dining under a gorgeous full moon? This month, we've got two opportunities—the beautiful Ronin Farm and Restaurant in Bryan is hosting their Hunter's Moon Dinner on October 3 and their Blue Moon Dinner on October 30!
Native Americans gave names to each month's full moon, and October's is called the Hunter Moon because it was time to hunt for meat to get through the coming winter months. This time, we're lucky that the potentially cooler temps will coincide with a blue moon—two full moons in one month that only happen once every two to three years.
Owned and operated by the husband-wife team, Brian & Amanda Light, the 15-acre Ronin farm serves as an event venue and is the heart of food production for their restaurant located in downtown Bryan. The intriguing thing about the restaurant is that the menu is updated daily and is dependent on the weekly harvest! Brian & Amanda take pride in the freshness of their ingredients.
And you'll have plenty of opportunity to taste the freshness in the nine-course meal! The gates open at 6 and a tour of the property begins at 6:30. Dinner will be served in the restaurant's forest space next to the barn and will feature seasonal ingredients, not only from Ronin Farm, but other local farms as well. As the stars begin to shine, you'll stroll down a candlelit path to the garden for coffee and dessert in the perfect setting to watch the moon rise. What a delightful way to celebrate the beginning of fall!
If you're over 21, you can bring your own alcohol, and the option to purchase libations prior to the event is available inside the restaurant. The menu will be announced the week of and will be based on local availability. A few tips: wear closed toed shoes and dress comfortably and casually.
In addition to the Hunter's Moon Dinner, you can dine at Ronin Farm & Restaurant every Wednesday through Saturday evening and for brunch on Sunday mornings. You can also book a private event at Ronin—baby showers, birthdays, business meetings. Visit the Ronin Farm website to sign up for their newsletter, which ensures you are up to date on all things Ronin Farm!
Tickets for the Hunter's Moon Dinner are $135 per guest and available for purchase via their website or Facebook page.
Sources:
Hunter's Moon Dinner — Ronin Farm & Restaurant