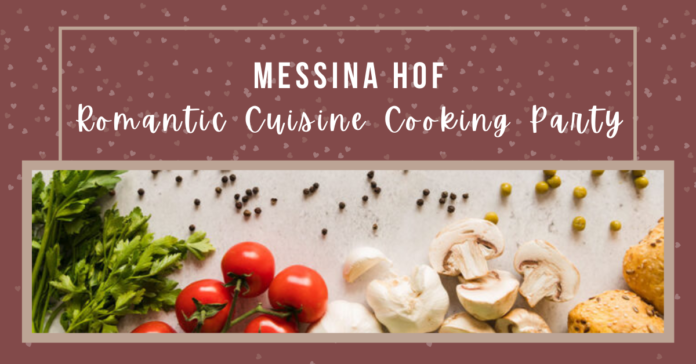 There are few things more romantic than sharing a fancy meal with your significant other, especially one you made together! If you're wanting to treat your sweetheart to a special meal but you're not too confident in your cooking abilities, or if you are confident in your abilities but want this Valentine's meal to be truly memorable, look no further. Messina Hof's next monthly Cooking Party, featuring Romantic Cuisine, is the the perfect opportunity for either one, all while sharing an unforgettable experience with your better half.
The Romantic Cuisine Cooking Party will be held on Sunday, Feb. 21 from 1-3 p.m. at the Vintage House Restaurant at Messina Hof Estate in Bryan. The Vintage House has been voted one of the 'Top 100 Most Romantic Restaurants in America' by OpenTable.com, so there couldn't be a more perfect venue for this romantic night of cuisine. As with every Messina Hof Cooking Party, Messina Hof wines will be used in the dishes, and novice chefs will get to learn tips to polish their beginning cooking skills while the more experienced chefs can pick up advanced details. Guests will also receive a recipe booklet and have the chance to register to win exciting culinary door prizes.
The Romantic Cuisine's menu consists of a first course of Oysters Rockefeller paired with Messina Hof's 2019 Sauvignon Blanc. The oysters will be followed by a main dish of Baked Airline Chicken complemented by the Messina Hof 2018 Bonarrigo Family Heritage Reserve wine. Lastly, top off your night with a decadent chocolate ganache for dessert along with a private reserve Papa Paulo Port.
Tickets to the Romantic Cuisine Cooking Party at Messina Hof would be such a special way to surprise your loved one for Valentine's Day. The two of you can cook the night away together, and even better, take your new kitchen skills back home with you to continue the party in your own kitchen!
Accompanying the Romantic Cuisine of this month's Cooking Party, Messina Hof wine will be served as well, specially chosen to complement the night's menu. Tickets for the Romantic Cuisine Cooking Party are available for $69.95 plus tax and gratuity, and they can be purchased here.
For more information, head to Messina Hof Romantic Cuisine Cooking Party.