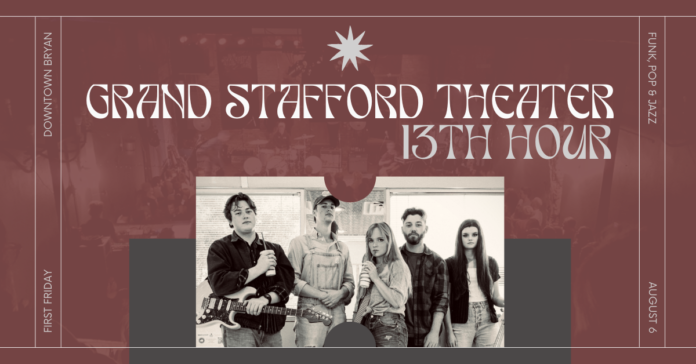 As July comes to a close and the new month begins, we swiftly approach that time again. That time when excited chatter echoes around the streets and artists set up displays alongside local businesses. The streets are closed off and parking downtown becomes nearly impossible to find. That's right, it's First Friday! And just down Main Street, the Grand Stafford Theater prepares for their contribution—an indie rock concert, free for all ages!
Grab a cold drink from the Grand Stafford's fully stocked bar and finish off First Friday right with this month's concert, starring College Station's "13th Hour," sponsored by Aggieland Properties. Get there early, cause while the show starts at 8 p.m., the line forms well in advance of the doors opening at 7:30 p.m. After all, what's better than a free concert from a local, five-member indie rock band? If you're in the mood for a little something special, you can pay $10 for a premium pass that allows access to special seating and a bar located on the third floor.
Incorporating each of the band member's unique backgrounds, the "13th Hour" mixes different genres like jazz, funk, and pop into their original music. Relatively new to the music scene, having released their second album this past June, this quintet has been making quite the name for themselves locally. Known for their passion and efficiency, they'll be fantastic to see live.
Not to mention the historic Grand Stafford Theater's atmosphere. And given the theatre's prime location, hungry audience members are encouraged to visit any of the nearby eateries for a bite before, after or even during the concert. Just remember not to bring food or drink back to the venue.
The concert is generously brought to you by Aggieland Properties, a full service real estate company that handles Residential, Commercial, Land and Investment Property and has over 20 years in the business.