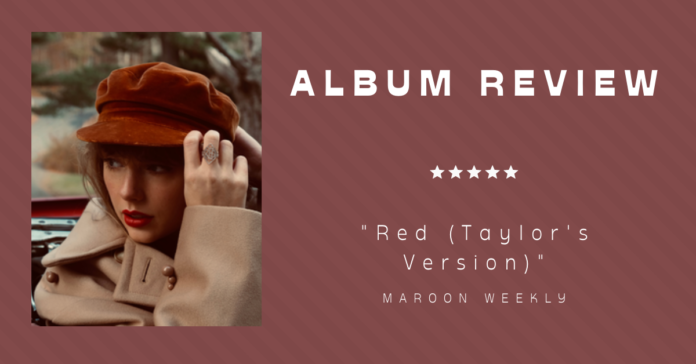 Taylor Swift is one of the most iconic and talented artists of our time. Her music influences almost all genres from country to pop, and she has continuously been loved and supported by her loyal fans.
Over the last couple of years, Swift has been in the process of remaking all of her old albums so that she can gain legal ownership of her music from her previous manager. There are very few artists that would be able to pull this off as successfully and flawlessly as she has. People count down the days, search through all of her hidden "Easter eggs" on social media platforms for hints about the album release date or what will be included in them.
Once the date is discovered, people plan their weeks around it. Parties are thrown to celebrate the old and the new, as within her new albums she has been adding songs that are "from the vault"; in other words, songs she wrote but opted not to include on the album.
On November 12, 2021, Red (Taylor's Version) was released and her fans, and even people that aren't big fans, went crazy over it. With 30 tracks, this album recreated the original Red album by adding a new and refreshing feel to it. The original Red album was released in 2012, making it almost 10 years!
In Red (Taylor's Version), there are nine new tracks that are included from the vault. Not only this, but Gary Lightbody from the popular group Snow Patrol, Ed Sheeran, Chris Stapleton, and Phoebe Bridgers were all featured throughout the album.
This album reflects on love, death, heartbreak, and most importantly, the feelings and trials and tribulations we go through in this life that make us who we are. Taylor Swift has and will continue to be one of the most well-respected artists in our society. This album is liberating and nostalgic at the same time, which makes it one that is impossible to stop listening to.