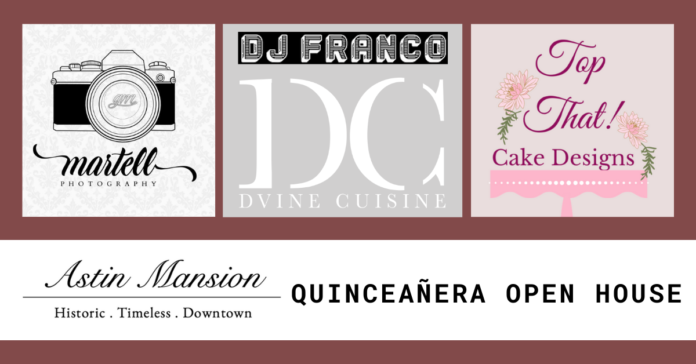 Parents of soon-to-be 15-year-old girls, it's time to get excited—there is a perfect event for you and your daughter to attend to begin the planning process! The Astin Mansion is having their very first Quinceañera Open House! Originally scheduled for Sunday, February 21, due to drastic weather conditions, the event has been postponed to sometime in March. For now, read on in anticipation of a wonderful event that allows you to tour an extra special venue, meet knowledgeable and talented vendors, and of course sample food from caterers.
The Astin Mansion event will give families the opportunity to visualize their not-so-little girl's fairytale Quinceañera as well as get to know vendors for every aspect of the occasion. The event is free and open to the public—the perfect excuse for a girls' day out!
Venue manager Christopher Dodgen says, "We are most excited about the diverse group of vendors that will be on-site the day of the event, promoting their services." The Astin Mansion selected well-known vendors for the Quinceañera Open House, including D'Vine Cuisine, DJ Franco Events, Martell Photo & Video, and Top That! Cake Designs. They are well-known Latino event industry leaders and members of the Wedding Association of the Brazos Valley.
The Astin Mansion was built in 1920 and established as a special events venue in 1998. Its 100 year history has given it a distinguished atmosphere, making it the perfect place to host your once in a lifetime event. With all its elegance, its no surprise the Astin has become one of the most well-known wedding venues in the BCS area and was voted "Best Wedding Venue" by The Knot Magazine.
Frequently, the Astin Mansion is just seen as a wedding venue, but they host all types of celebrations. Coming of age celebrations like Bar Mitzvahs, Quinceañeras, Formals, High School Proms, and Sweet 16's are also a massive part of the event industry and can be hosted at the Astin Mansion!
Needing a one night getaway or wanting to stay at the estate after your event? Well, you're in luck because they also offer overnight accommodations, which you can book through Airbnb. It's a perfect add-on to have lodging the night of the event so you don't have to drive back home or to a hotel. For a wedding, you can stay after the rehearsal the night before and wake up ready for the big day!
The Astin Mansion looks forward to seeing you in March! For more information on booking the venue or to set up an appointment to tour the venue, click here.Face masks are required by everyone attending the Quinceañera Open House, and all COVID-19 guidelines will be followed during the day, so you and the vendors feel safe!
Sources:
Interview with Christopher Dodgen