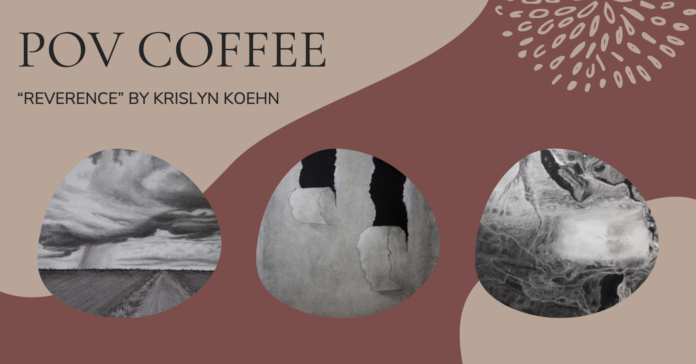 An exciting new opportunity to experience art in person is happening now at POV Coffee House in Bryan! POV artist of the month Krislyn Koehn has her solo exhibition "Reverence" on display now at POV and in the lobby of The Stella Hotel, featuring her "Fronts" series and more. "Reverence" will be on display until February 20, 2021.
Local artist Krislyn Koehn works in a range of digital and traditional media. Koehn spent time living in Australia, Germany, and remote parts of the US that continue to inspire the work she creates today. Themes of nature, weather and fire help Koehn find wonder in power that shows up in her black and white work. If you've ever watched the wide open sky of Texas transformed by a cold front sweeping dark storm clouds across an open plain, you'll understand Koehn's obsession with transcribing that power into black and white charcoals.
Koehn completed her MFA at Texas A&M University in August of 2020, and prior to her MFA, she received her BS in Visualization from Texas A&M in 2016. She currently serves as the artist in residence for Downtown Bryan, and you can meet her at the monthly First Friday and Third Thursday Art Walk events.
POV is the perfect place to grab a bite to eat with friends, study, or even take a coffee to bring along while you stroll around the lake. And even better, now you can stop by and see Krislyn Koehn's art through February 20. It's a win-win!
POV Coffee House is located at the Lake Walk Town Center right next to The Stella Hotel in Bryan, Texas. For more details about POV's hours and the availability of the exhibition, check out POV's website.
Sources: