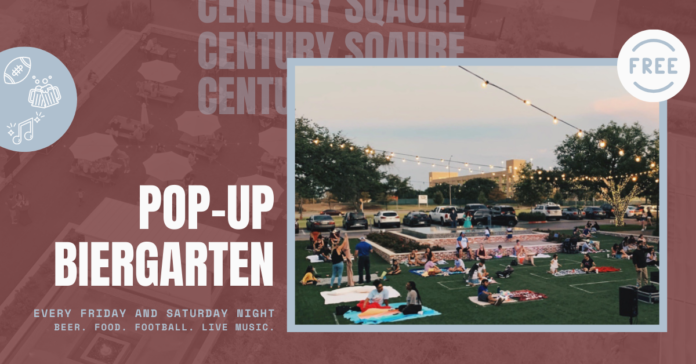 As fall arrives once again, Aggieland can take part in Texas's holy trinity; beer, food, and football. It only takes those three words to get people interested, and Century Square aims to provide locals with that and much more with the return of their pop-up Biergarten starting Sept. 3 at 7 p.m. and continuing throughout the weekend. Century Square Biergarten will also be returning every weekend even during away games, so there's something to look forward to at the end of every week!
Century Square Biergarten is the premier destination to enjoy an array of food, drinks, music, and football. Located on The Green at Century Square in between Hopdoddy Burger Bar and Sweet Paris, the event provides shaded picnic tables that are first come first serve and are well spaced apart. But be sure to leave the picnic at home because with all the great food and drink options provided by some of Century Square's fantastic restaurants and bars, you won't need anything else, and there's a strict no outside food and drink policy for this event. You'll be able to choose from PORTERS, Mo's Irish Bar, 1791 Whiskey Bar, The Canteen, Zoe's Kitchen, Sweet Paris, Piada Italian Grill, Hopdoddy Burger Bar, and MESS Waffles.
One thing to note is that the event times will differ depending on the day. On Fridays, the event will run from 7-11 p.m., on Saturdays, from 11 a.m.-10 p.m., and on Sundays, from 11 a.m.-2 p.m. Every Friday and Saturday night, depending on kickoff time, you can enjoy live music from local and regional artists at Century Square's Front Porch. 
The event is free and there's also free garage parking. Bring the whole family because the event is pet and children friendly. They've also eliminated the worst part of going to games, trying to find parking close to Kyle Field! Century Square will be offering a free game day shuttle to transport fans to and from the stadium, so traffic won't slow you down! They also have fans covered on away games, with 60' TVs stationed on The Green to ensure you don't miss a second of game action! So come on down to Century Square for a weekend of Aggieland fun!