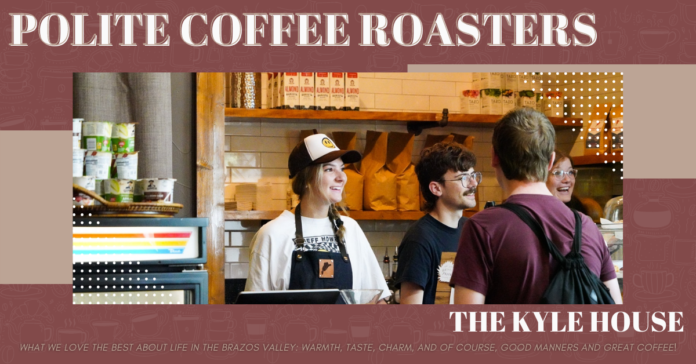 What do you get when you cross good manners with state of the art tech? And what about crossing the historic home of a BCS legend with some seriously top-notch coffee roasted by a TAMU grad? Polite Coffee Roasters, of course!
The Kyle House, home of the legendary Edwin Kyle, provides the perfect setting for the perfect cup of joe roasted by Steve Turner, Head Roaster and Founder of Polite Coffee Roasters.
While stationed overseas in the army, Turner had a vision for starting a coffee company. When it came to choosing a name, he found he'd missed Texas culture's emphasis on friendly interactions—holding open the door for someone can mean a lot—and thus, "Polite Coffee" became the name he settled on.
After starting small in the community, the Polite Coffee team now finds their home in The Kyle House, where their legacy grows and Edwin Kyle's lives on. Turner says, "The Kyle House gives us the opportunity to bring the small town feel to a bigger city." And like Kyle himself, Turner is dedicated to excellence. So it's no surprise that Polite Coffee is the first in the state to utilize the Sovda Optical Sorter, which Turner says takes thousands of photos a second of the beans, choosing the good beans based on color and spitting out the bad.
The stories of both Edwin Kyle and Steve Turner are captivating, and capture the collective spirit of the community. Learn more about the story of Polite Coffee finding its new home in episode two of "Bryan, Texas Legends" presented by Destination Bryan. Or you can stop by The Kyle House and taste the difference for yourself. Polite Coffee offers a number of specialty coffees to be enjoyed in the moment, but also sells whole beans for home brewing.
For the perfect on-site beverage, start with the iconic Kyle House, a latte with cinnamon and honey. Or you need a perky start to your day, maybe you'd prefer Breakfast in Bed, a latte with fruity pebbles infused milk. For one of the warmer days like we've been having this month, try out a Slapfight: Cold Brew with lime juice, ginger beer, and garnished with mint, or a Cafe Libre, which is half cold brew, half Coca-Cola.
If you are a milk purist, Polite Coffee is your kind of folks as they offer no less than six choices of milk, including oat and Milkadamia. There's also 13 add-in flavors, ranging from blackberry to sage to lavender. And coffee always tastes better with a treat, so why not have a biscuit, muffin, or scone? If you're rushed for time, order in advance online for pick up.
If you're needing a last minute gift idea, order a gift certificate or stop by and pick up some of Polite Coffee's uniquely flavored whole beans. Whether you're interested in a single origin or a blend, you'll find something to love. Try a medium roast such as Guatemala Antigua with notes of strawberry, apple and pecan pie. Or how about Brownie Points, featuring the flavors of chocolate covered cherries, orange zest and Earl Gray tea? If a light roast is your fav, the Ethiopia Kochere with notes of blueberry pie and kiwi is sure to delight. Dark Roast purists will rave over Corner Booth Blend, a rich, bold, full-bodied coffee that reminds us of those slower days at the small town diner.
Open daily from 7 a.m. – 5 p.m., Polite Coffee Roasters reminds us of what we love the best about life in the Brazos Valley: warmth, taste, charm, and of course, good manners and great coffee!