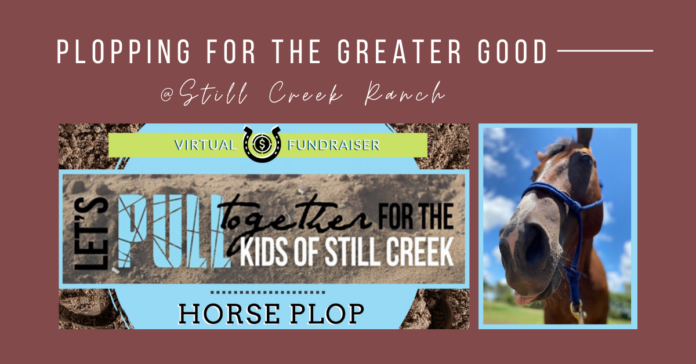 Who knew that horse 'plopping' could help raise donations for a good cause? That's exactly what Still Creek Ranch is doing by hosting their 1st Horse Plop Virtual Fundraiser on August 29. The Horse Plop will take place on the Still Creek Arena, but will be live streamed, an ideal set up for these pandemic times as well as any city slickers who don't want to get plop on their boots.
Opening in 1988, Still Creek Ranch rescues boys and girls ages 10 -18 from crisis environments and gives them a safe and loving home on the ranch. The children also attend the on-site Still Creek Academy, where they have Bible-based counseling, TCAL athletics and participate in equestrian and agricultural programs.
"We have found that private school education helps them out a lot with working through some of the things that they've gone through in life so far," Development Director Chanté Smith says. While COVID has hindered the ranch from hosting their normal fundraising events, Smith says it has given them an opportunity to learn how to share their mission virtually.
"Anybody wanting to help, it's not just a one time help, their donation and supporting us in this fundraiser is helping us raise these children and make that commitment in their life," says Smith.
Executive Director James Inmon says that the ranch has been able to operate for the past 32 years without any government funding and instead has continued operations through the many donations they receive yearly. "Kids that come to this therapeutic boarding school are 100% scholarship because of donors," Inmon says.
Even virtually, it's sure to be a stinkin' great time because where the horse plops, there's a winner. The arena will be divided into even squares based on how many tickets are sold—one square equals one ticket—and a random drawing will decide which square the donor gets. Whichever square the three horses 'plop' on first will determine the winner, with 1st, 2nd and 3rd prizes for those that win.
There is also an add on that donors can play, which is the First to Plop. For just $5 more per ticket, donors have the chance to bet on which horse will 'plop' first. Each horse represents the three areas of Still Creek that can be supported by a donation. The horses Money, Freckles, and Opie represent the school, houses, and the ranch respectively. "So it all goes to help the operations here in total, but it's a fun way to get everybody engaged," Inmon says. "Everybody that selected that horse will receive a small prize."
Each ticket is $20, and those interested in registering can do it online on the Still Creek Ranch website or they can mail in registration forms to the ranch. The last day to mail in forms and register online is August 24. Ticket selections will be posted August 26, and the event will be livestreamed on the Still Creek Facebook and Youtube platforms August 29 at noon. 
To learn more about Still Creek Ranch and how you can help, visit: https://www.stillcreekranch.org/#/