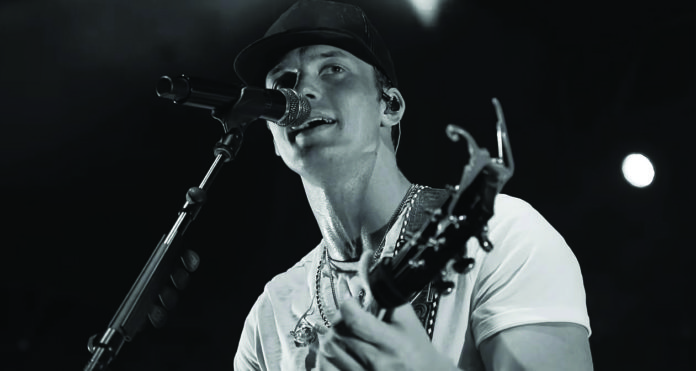 The young, uber-talented country music star Parker McCollum is coming to Hurricane Harry's and will play with guest Grant Gilbert on Feb. 14 and Hayden Baker on Feb. 15.
McCollum is arguably one of the most popular musicians in today's country music scene. His first album, "The Limestone Kid," was released in 2015 and put him on the fast track to stardom. Several songs off the album, like "Meet you in the Middle" and "New Orleans," were both critical and popular successes. His most recent album, "Probably Wrong," was another major success that cemented his status as one of today's hottest stars.
McCollum can do it all. He sings, writes his own lyrics and can play multiple instruments. It is hard not to get taken in by his upbeat and catchy songs, but his talents as a musician really shine through when he writes of the heartbreak and pain he has lived through. Songs "Hell of a Year" and "Memphis Rain" are brutally honest and authentic, showcasing McCollum's vulnerable side and allowing his audience to connect with him.
Grant Gilbert is a burgeoning artist in his own right. The North Texas native, who just released his debut EP "Loud and Clear" in 2019, has a promising future. He is a country artist, but his songs seem to have a fusion of rock and even the blues – namely his use of power chords and long guitar riffs – that give his music a unique sound. Gilbert is managed by country music singer Josh Abbott and has a rapidly growing fanbase. Online tickets for the Feb. 14 show are sold out. However, tickets can still be purchased at Cavender's Boot City College Station location. Doors open at 9 p.m. and the show starts at 10 p.m.
Hayden Baker will play with McCollum the following night. Baker went viral back in 2016 when singer Brad Paisley took to Twitter to compliment Baker's cover of his song, "Without a Fight." Since then, Baker has gone on to release an album, "Born in the Wrong Generation," that drew praise from country music fixtures including Clay Walker and Ronnie Dunn. Baker is an excellent guitar player with a special knack for songwriting. His style will complement McCollum's well. Tickets for this show can still be purchased online and at Cavender's. Doors for this show will open at 9 p.m. and the show will begin at 10 p.m.
For more information, please visit http://bit.ly/2GKw3zX