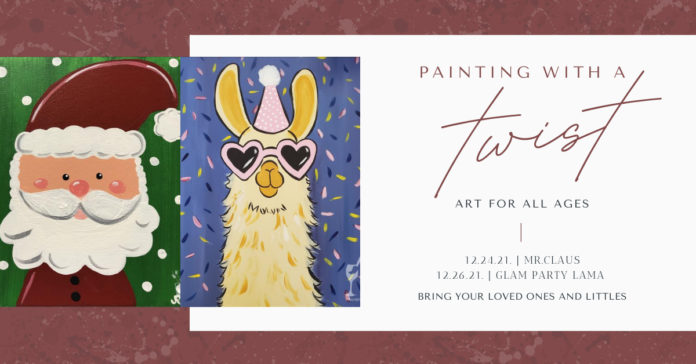 With a week left in 2021 and the kids home until school starts again, there's still more than enough time to create some of your favorite memories together. This week, bring your loved ones and littles to Painting with a Twist.
Learn how to paint Santa Claus the day before he comes to town! This Christmas Eve afternoon activity is for artists of all ages from 5 and up. From his cheeks like roses to his twinkling eyes, watch your own portrait of Mr. Claus come to life as instructor Ashley Konderla leads the class through creating this simple yet adorable Santa. The class lasts from noon to 1:30 p.m, helping you to have fun in a relaxing way with family before your evening festivities start.
The day after Christmas, Painting with a Twist is ready to jump right into the New Year spirit, and they're bringing you with them. Also an any-age event taught by Konderla, you'll paint a Glam Party Lama dressed in shades, confetti, and a party hat. This afternoon class lasts from 3 – 4 p.m, making it the perfect pre-dinner outing.
You can book your reservations here for $29 per person. Steal away these moments for rest this Christmas week in the midst of the traditions and celebrations so that this season truly is the most wonderful time of the year. You'll also find several other holiday events for ages 15 and up on the Painting with a Twist website.