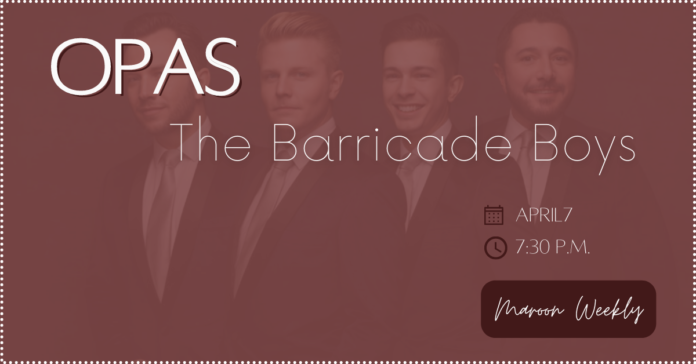 Music is the key to everyone's heart! Prepare to be stunned by show-stopping vocals and thrilling dance routines from Britain's The Barricade Boys. The talented vocal group will cover classic songs through the eras of musical theater, from all your favorite legends such as Queen, The Beatles, Elton John, The Rolling Stones, The Kinks, and Tom Jones on April 7 at 7:30 p.m.
The Barricade Boys were all plucked from various performances of Les Misérables, the 6th longest-running Broadway musical, so you know you'll be watching over the top talented musicians. The show mixes musical ballads with pop, rock, and swing numbers, plus an array of amusing dance routines. The Barricade Boys have also been featured stars in Broadway's Jersey Boys, Phantom of the Opera, and Wicked, so there'll be plenty of musical diversity.
The Barricade Boys' concept was imagined by Les Misérables alumni, Scott Garnham and Simon Schofield. Their goal was to create a magical musical that captivates the audience, and apparently they've managed it well as the group has appeared on TV shows such as "This Morning," "The Paul O'Grady Show," and others.
With talented performers that are dressed to the nines, mood lighting, and choreographed numbers, you'll wish you were up on the stage with them to join the fun! Those that adore musicals must give The Barricade Boys a chance to shine. They won't disappoint.
This one-time OPAS performance will be held in Rudder Auditorium. Tickets can be purchased online and range from $20 to $70.