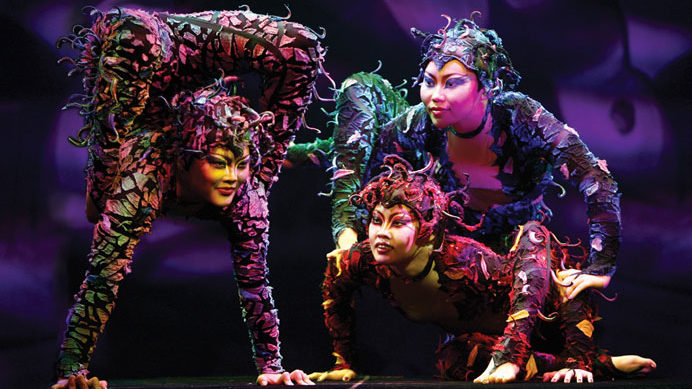 With the beginning of a new school year at Texas A&M, MSC OPAS invites you to experience a wide array of professional theatre, music and dance productions right here in College Station. As OPAS begins it's 47th season, here's a highlight of some of the stellar productions you can expect coming your way throughout the fall semester.

September 17 & 18: "Cirque Dreams: Jungle Fantasy"
Proclaimed "the grandest circus spectacle of the east" by New York Magazine, "Cirque Dreams: Jungle Fantasy" is a musical and theatrical experience that is perfect for all ages to enjoy. With acrobats soaring through the air and contortionists bending their bodies in awe-inspiring pretzels, the Broadway sensation provides an action-packed performance that will leave you breathless.

October 9: The Neil Simon Festival, "Driving Miss Daisy"
Coming to Rudder Theatre, "Driving Miss Daisy" is a production you will not want to miss. Set in 1948, the play revolves around the relationship between a rich Jewish widow and her black chauffeur in the pre-Civil Rights Movement deep South. Winner of the 1988 Pulitzer Prize and later adapted into an academy award winning film, "Driving Miss Daisy" is a beloved classic that will delight all audiences.
October 17: The Four Italian Tenors
In October, Rudder Auditorium will host the smooth sound of The Four Italian Tenors. On their first U.S. tour, these four magnificent singers will delight and charm you with their angelic voices as they hail some of Italy's best performers, including Luciano Pavarotti and Andrea Bocelli.
October 29 & 30: "Bandstand"
Set in 1945 in the aftermath of World War II, "Bandstand" is an American musical that tells the story of six soldiers trying to find a find a place to call home through the power of music. With catchy music and "high-octane dancing," "Bandstand" is a visceral experience that will move you.

December 3: The Midtown Men- "Holiday Hits"
Start off the holiday season right with a festive concert that will put you in the holiday spirit. The Midtown Men is a musical ensemble made up of members from the original cast of "Jersey Boys" on Broadway, including Tony winner Christian Hoff and Tony nominee J. Robert Spencer. This holiday season, they travel to College Station to perform a mix of 60's rock n' roll hits and holiday classics.

December 5th: Boston Brass and Brass All-Stars- "Christmas Bells Are Swingin'"
Keeping in the holiday spirit, the Boston Brass & Brass All-Stars Band travel to College Station to perform big band versions of classic Christmas tunes. Having performed for over 31 years, the Boston Brass has traveled all over the country thrilling audiences with a wide variety of musical styles in a fun and unique way that will delight fans of jazz music.

December 8: "A Christmas Carol"
Rounding out the holiday season is the national tour of the Charles Dickens' timeless classic, "A Christmas Carol." A staple of the holidays, this story about the magic of family and the power of redemption will warm the heart of anyone who watches it. With 26 holiday classics to sing along to, this musical welcomes you straight into the true meaning of Christmas.

For more information, visit: https://bit.ly/1lGocEP