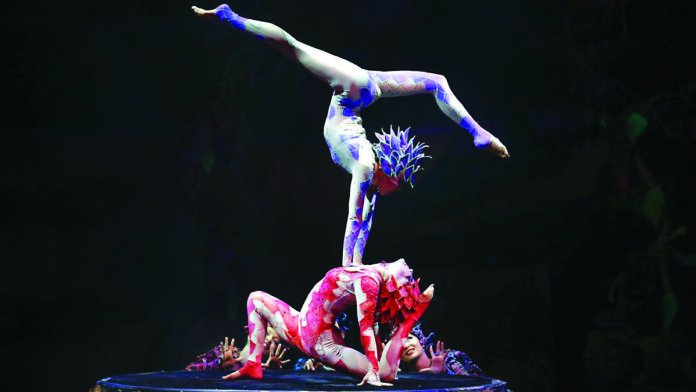 If you can't decide between going to the circus or visiting the jungle, with Cirque Dreams Jungle Fantasy you don't have to! Cirque Dreams Jungle Fantasy brings nature and acrobats all under the same roof. Named "The grandest circus spectacle east of Vegas" by New York Magazine, this theatrical performance as done over 2,000 shows since 2007 and has been to over 170 cities throughout North America. Full of vibrant colors and exhilarating choreography, this stunning show has been performed at the Broadway theatre, and will now be at Rudder Auditorium Sept. 17 or 18 to bring BCS an evening full of jungle adventure.

Jungle Fantasy was inspired by nature's fascinating creations, made real through the international cast of acrobats, jugglers, musicians, flying aerialists and mind blowing contortionists. The unimaginable stages of Cirque Dreams Jungle Fantasy are brought to life through unique visual effects and striking costumes. The audience will feel as if they have entered a real jungle! You can expect to be left in awe by soaring butterflies, massive flowers and trees, steady standing giraffes, and kings of the jungle. Cirque Dreams Jungle Fantasy is a family friendly show for all ages to enjoy, bringing an evening full of a world-class explosion of athleticism, theatre and imagination.
Cirque Dreams Jungle Fantasy will begin at 7:30 p.m. on Sept. 17 and Sept. 18 in Rudder Auditorium. Tickets can be purchased through the MSC OPAS official website, with prices ranging from $28 to $90. Discounted ticket prices are available for Texas A&M students. For any questions, the MSC box office is open Monday through Friday from 10 a.m. to 4:30 p.m. Rudder Auditorium offers wheelchair spaces and companion seats, which can be purchased online, in person, or over the phone. For more information on the location of these seats, please visit the MSC OPAS website.

For more information, https://bit.ly/2k4BIcd