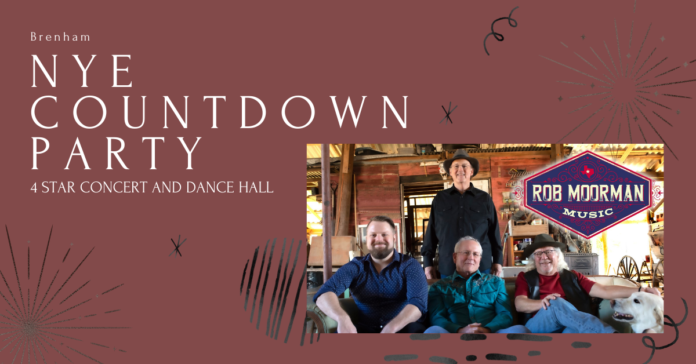 It's sure been a heck of a year, and the end of it certainly begs for a major celebration. If you're itching to get out for New Year's Eve, 4 Star Concert Hall, SideBar & Sports Bar in Brenham has you covered. With their state of the art acoustics and ice cream shot specials, you really can't do better in kicking 2020 to the curb and welcoming 2021!
Jessica Jarrett, Talent Buyer and Social Media Manager, says they will practice social distancing by operating at 50 percent capacity. But that won't inhibit having a great time because of their holiday cocktail drink specials and dessert drinks made with Brenham's own Blue Bell Ice Cream. If that isn't enough, there's food, party favors, and a champagne toast included in your ticket purchase! And there'll be plenty of food! Choose from chicken strips, potato salad, spring rolls and egg rolls, chips, salsa and queso.
The featured band, Rob Moorman & Company, is also sure to please. Jarrett says, "They hit all the marks on their trip through the decades, old and new, from blues to country to rock. We go along with the East Coast countdown, so at 11, we'll put the ball drop from New York live on the big screen behind the band, and they'll go into Auld Lang Syne. Then there'll be another hour of music afterwards."
Don't miss your chance to celebrate at one of the few parties in the Brazos Valley! General Admission tickets can be purchased here for $25, and Upstairs Mezzanine tickets are $35.