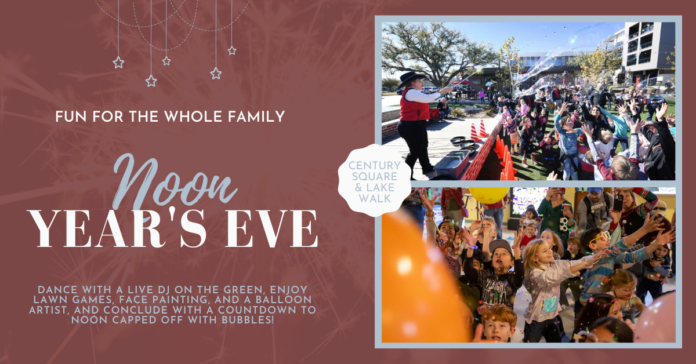 Looking for an opportunity for the kids to welcome 2022? Come on out to a Noon Year's Eve countdown at either Century Square or Lake Walk!
Century Square kicks the festivities off at 11:00 with an array of activities, including a DJ that'll be turning The Green into a dance floor. In addition, there'll be lawn games, face painting, and a balloon artist. To accompany the countdown to noon, The Green will be engulfed in bubbles! The event concludes at 1:00, so there'll be plenty of time to enjoy the activities Century Square has to offer.
Also from 11-1 p.m., Lake Walk's 8th annual Noon Year's Eve Celebration and Ball Drop will have their own version of dropping the ball from the Lake Walk tower. The Children's Museum of Brazos Valley will keep the kids entertained with a variety of crafts. Afterwards, visit the shops or take a stroll around Lake Walk and let the kids get all their energy out in the open air.
Make memories with the family and let the kids join in on the new year's festivities with these two exciting options!