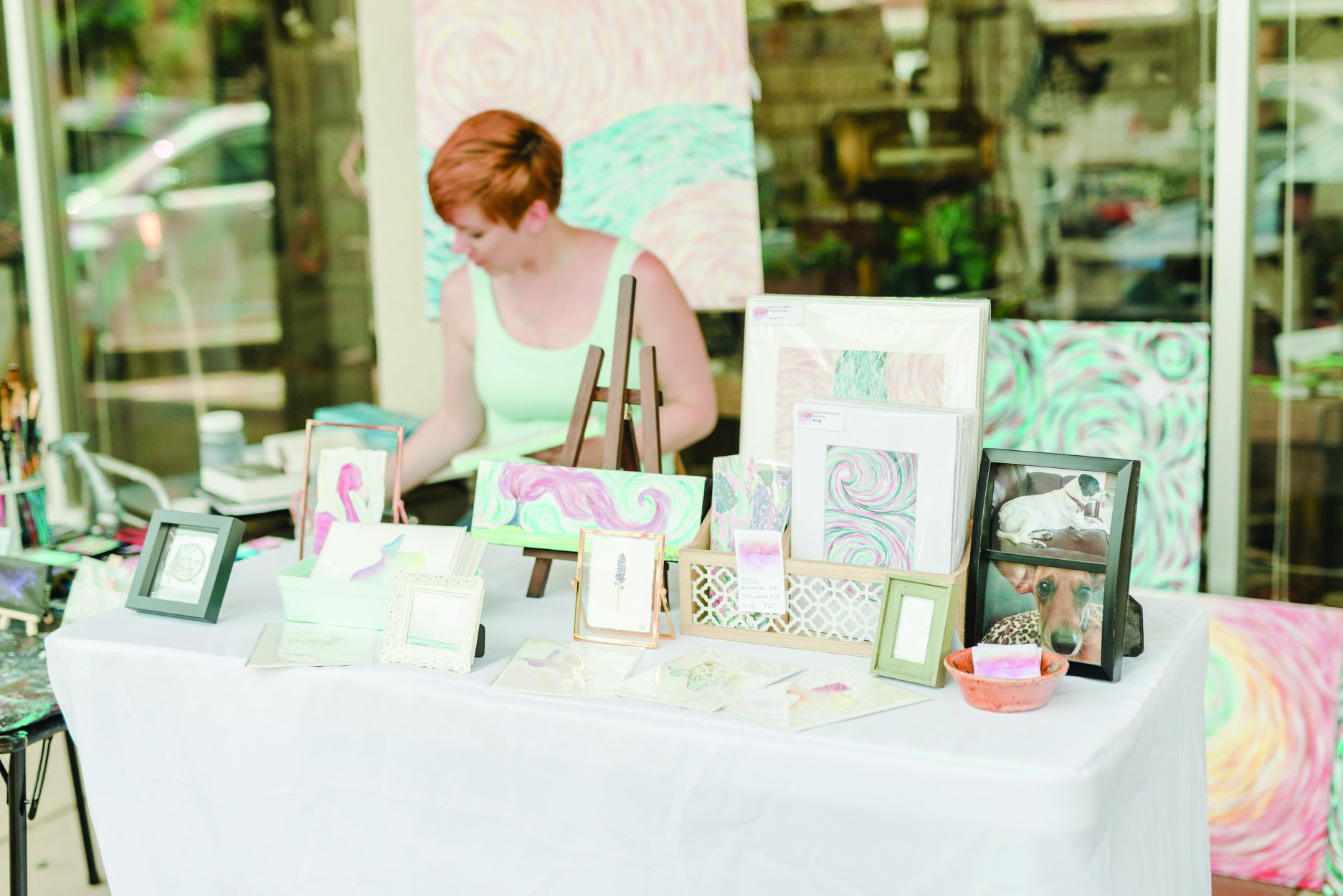 Bryan has a new group for local artists looking to network and exhibit their work. Bryan Contemporary Artists – BCA seeks to connect energetic artists in the community. They hope to collaborate on pop-up shows every couple of months, coinciding with Third Thursday Art Steps.
Like many great stories, it started over coffee at Harvest Coffee Bar. The founders, Lisa Urban and Sabrina Hegefeld, saw a need for an organization to help new artists. Artists with edgier, modern styles (particularly younger artists and transplants) might struggle to establish a presence in the thriving artistic community of Downtown Bryan. "It needs to happen," Urban said. "So why don't we make it happen?"
Lisa Urban graduated from Kansas State University, and she's the K-12 art teacher at St. Joseph Catholic School. Sabrina Hegefeld graduated from Sam Houston State University, and her artwork is currently available at Market 1023. Both artists have been featured in local exhibits as well as elsewhere in Texas.
Bryan Contemporary Artists – BCA exhibited their first show at the Purple Turtle in August. Seven artists displayed four or five pieces each, mostly paintings and mixed media work, with one artist displaying prints of fashion design work. While an established art scene can be intimidating, it's important to have platforms where new voices can join the discourse.
A number of downtown Bryan businesses have already expressed their support, including The Village Cafe, where some of the group's planning and networking meetings will be held. In addition to organizing exhibitions, the group also hopes to facilitate peer critique and collaboration. For the latest updates on the group, go to their Facebook group at "Bryan Contemporary Artists – BCA."
Whether you're creating, appreciating, or buying art, Downtown Bryan has a lot to offer. Back in 2014, the area was recognized as the "Downtown Bryan Cultural District" by the Texas Commission of the Arts. Several art organizations are doing great work in BCS.
The Brazos Valley Art League meets regularly and offers scholarships to local high school graduates. The Arts Council of the Brazos Valley has a bigger umbrella, promoting literature, history, music, theater, and more. Art Reaching Teens, an Arts Council program, provides opportunities to youths on probation and inside juvenile detention centers. Through the Arts Council, Bryan and Navasota offer Artist in Residence programs with free housing for a year and six months, respectively. On West 31st Street and across town, you can see the work of local talent like the owner of Arsenal Tattoo and Design, Cliff Collard, and artist-sonographer Sarah Blackmon.
If you're a modern artist, looking to connect with others in the community, or if you're a business owner looking to exhibit local artwork, check out Bryan Contemporary Artists – BCA on Facebook. They're interested in finding more places to exhibit work in Bryan, and they may expand into College Station in the future.