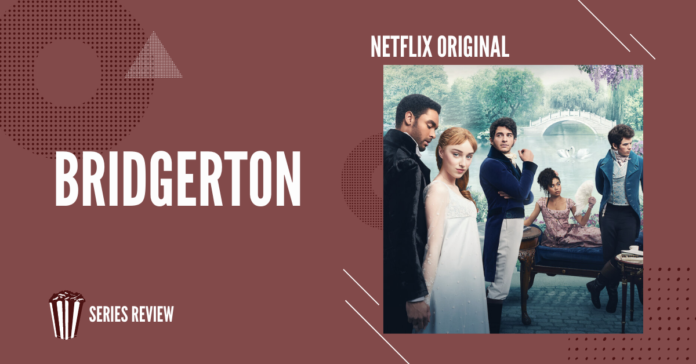 Bridgerton has taken the world by storm the past few weeks, getting the attention of millions of viewers ever since its release on Christmas Day of 2020. The Netflix Original features only 8 episodes of this early 1800s London's high society drama, but each episode is more riveting than the last.
Based on the bestselling series of novels by Julia Quinn, the premiere Netflix adaptation of Bridgerton chronicles the societal debut of the season's diamond, Daphne Bridgerton, played by Phoebe Dynevor. Daphne catches the eye of many—if not all—of London's most eligible suitors of the season, but her older brother's zealous intentions of finding the perfect match for her rather ruin her chances. In an effort to help Daphne win suitors by painting her as a jewel in high demand, Daphne and the Duke of Hastings, played by Regé-Jean Page, conjure up a ruse to fool London's society into thinking they are a couple Their plan, of course, doesn't go as expected, but you'll just have to watch the drama to find out what happens.
Daphne's perfectly humorous and dysfunctional large family also accompany many of the storylines laced throughout the show, as well as several other families and society figures. And amidst the London society drama, a notorious figure known as Lady Whistledown, voiced by Julie Andrews, reports on the gossip of the town through her "society papers" in a Gossip Girl-esque way that keeps all of London's society on their toes.
While Bridgerton covers comedy, romance, and scandal, it also addresses racial and gender issues that are present in our culture today. In addition, the diverse cast depicts the struggles and joys we face in current day life like family loyalty, hardship, and unrequited love. The series also touches on marital complications, money problems, and the challenge of protecting (or abandoning) a reputation. Exquisitely beautiful period sets and costumes serve to remind viewers that though culturally we might look a lot different now than we did in 19th century London, our internal landscape bears quite a similar resemblance. We haven't changed as much as we might think.
Bridgerton, currently Netflix's 5th most streamed show with 63 million streams within the first four weeks, should be in your Netflix queue now if it isn't already on your "watch again" list. It is the perfect combination of colorful scenery, British accents, and addicting drama. A must-watch.
Sources:
The Bridgerton Book Series by Julia Quinn