It's hard to believe, but Independence Day is already here! As the hot Texas summer hits its prime, folks are getting ready to celebrate the 4th of July in different ways, including at the Navasota Freedom Festival in Downtown Navasota! 
Kick off your fourth with the parade down Washington Avenue at 11 a.m. After that, settle in for a fun afternoon full of tasty food, live musical performances, shops to browse, activities, and even a cornhole tournament. Storefronts in Downtown Navasota will also be offering specials, giving festival-goers a great incentive to support local businesses. And there'll be plenty of entertainment and music! See performances by Kickstart Kids showing their karate moves, Texas 105 Band, Jamie Weston, Doc West, and finally, Bill Mock & the Highway 105 Band. Times for the start of each performance are on the Navasota Freedom Festival Facebook page.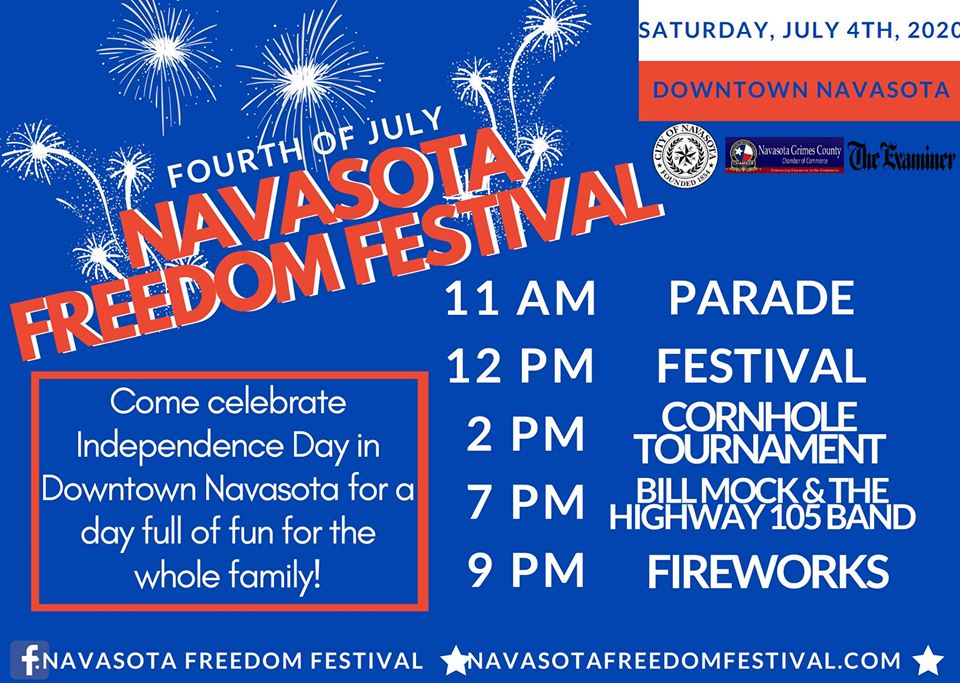 The evening will conclude, of course, with fireworks! They'll start at 9:15 p.m. at Brule Field, but festival-goers can start making their way to Brule Field at 8 p.m.
This event is free to the public and is taking all precautions to ensure the safety of everyone in attendance. This is an outdoor event, and guests are expected to social distance and follow all CDC and state-mandated guidelines. Vendors will be appropriately spaced to allow ample physical distancing, and festival-goers can view the fireworks display from their cars if they choose. In addition, there will be hand sanitizing and washing areas set up throughout the festival grounds.
SOURCES: https://bit.ly/3dKFJsc https://www.facebook.com/events/761618001041142/