Are you or someone you know in need of a wedding dress? In a tight pinch? Afraid you won't find your dream dress now because of the pandemic? On Saturday, July 17 through Sunday, July 26, Coreena's Bridal Boutique in College Station will be participating in the National Bridal Sale Event!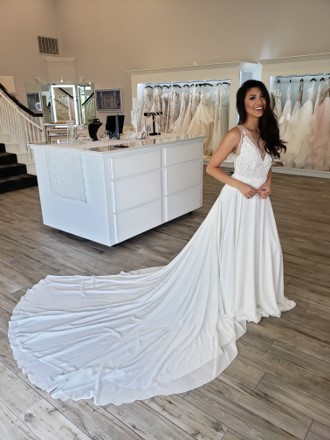 The event is a registered non-profit corporation that promotes the third Saturday in July as a day for hundreds of locally-owned independent bridal salons across the nation to offer wedding gowns to brides at substantial savings, and many salons keep the event going through the next week.
Coreena Ferrata, owner and general manager of Coreena's Bridal Boutique says, "This event is great for brides on a short timeline or who don't want to worry about a dress timeline." The best part is, all you need to do is to book an appointment during these dates to see the dresses included in the event! After booking the appointment, you'll be able to take a look at the dresses, fav the ones you're interested in, then go to the shop ready to try them on.
The National Bridal Sale Event will be celebrated by Coreena's Bridal by providing up to 70% off of sample dresses. "There will be around 75 dresses participating, and they will all be sample dresses," says Coreena. "Sample gowns are the dresses we carry in store that brides try on," she continues. "Depending on the condition and season of the dress, that will determine the sale being held on that gown." In case you're concerned about the dresses being samples, Coreena says there is nothing to worry about since the store is relatively new and the gowns included in the sale are still in great condition.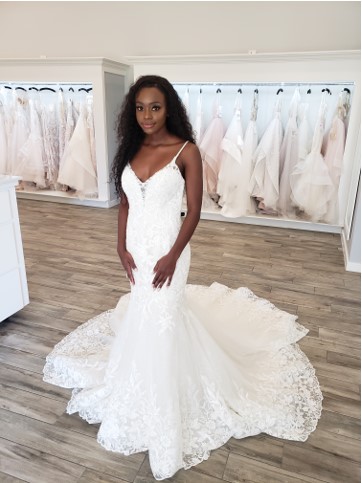 Coreena also reminds brides that bridal wear is made two to three sizes smaller than normal wear, so when looking at the dresses online, you'll need to choose a higher number in size. In other words, if you wear a size 4 normally, your bridal size will be an 8-10. Also, the dresses available in the shop will be marked with street sizes. Never fear, though, sizes 6-24 will be included in the sale with the option to order sizes 0-28 for non-sample gowns.
For almost two years now, Coreena's Bridal Boutique has been providing the Brazos Valley with excellent choices and superior service. Coreena's Bridal provides a variety of bridal accessories as well as alteration and gown preservation services. During an appointment, the bride and her party will be paired with a knowledgeable stylist, their own private fitting area, and a complimentary drink and cocktail menu.
Brides can easily make an appointment for this event by calling the store at (979) 459-2030 or booking online at https://coreenasbridal.com/appointments/.
Sources: https://coreenasbridal.com/ https://www.nationalbridalsaleevent.com/