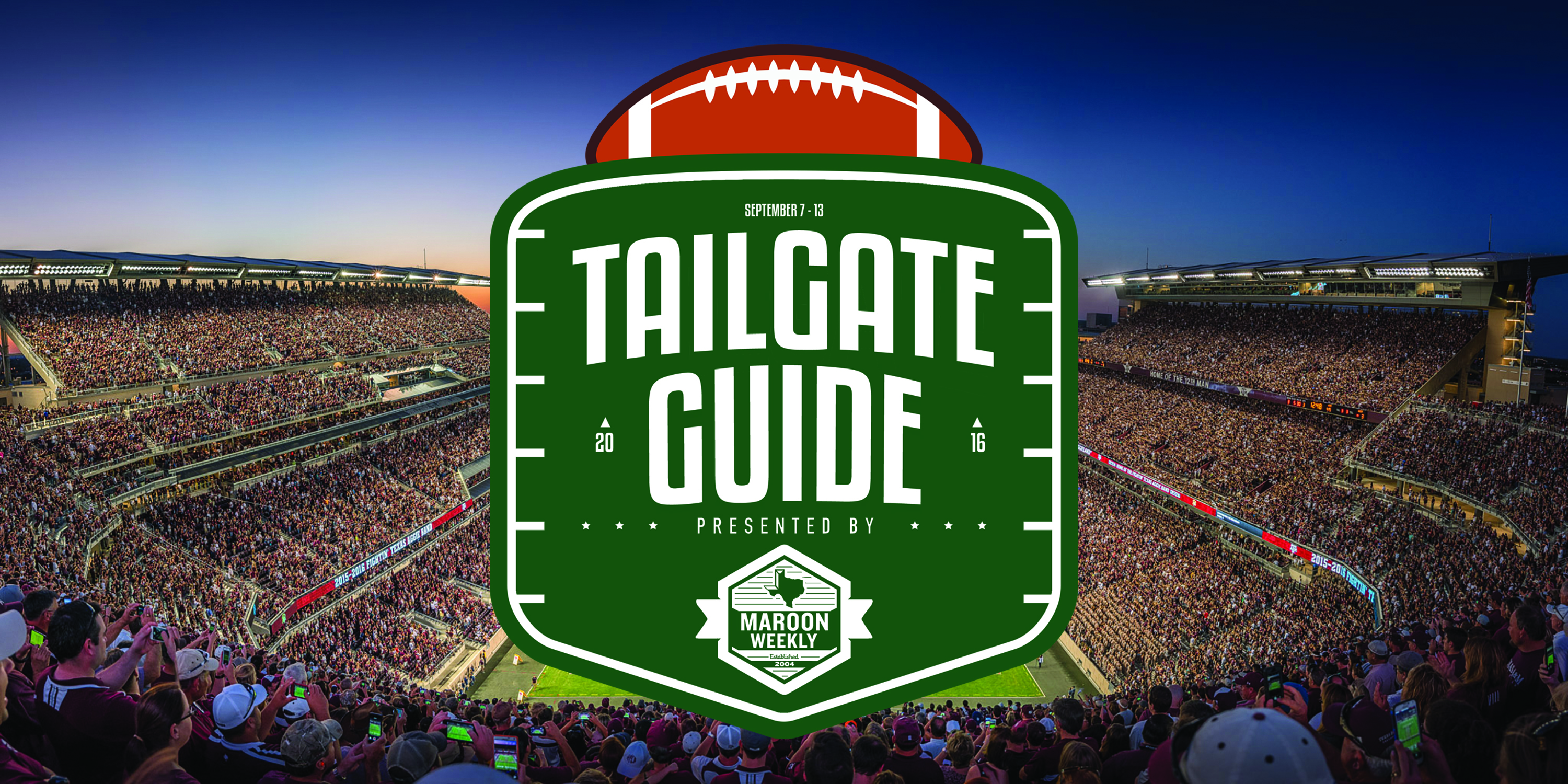 [et_pb_section admin_label="section"][et_pb_row admin_label="row"][et_pb_column type="2_3″][et_pb_text admin_label="Text" background_layout="light" text_orientation="left" use_border_color="off" border_color="#ffffff" border_style="solid"]
The fall semester has begun and Spence Park is once again filled with people and the smell of barbeque. It's finally football season in Aggieland, and with that comes tailgating. Planning on joining in the fun this season? Follow this guide and you'll be just fine.
At Texas A&M, "set up day" occurs on the Friday before a game at noon. At this point, many will run across Spence Park to claim their spot for tailgating the next day. You may not stay overnight at your claimed tailgating spot, but sites do reopen at 7am on game day allowing plenty of time for tailgating before midnight when you must be cleared out.
Want to tailgate but have no idea where to start? Many organizations, such as TexAgs, have free tailgates on big game days that you can just walk up to whenever. There are also companies, for example the Tailgate Troubadours, that will completely set up a tailgate for you and your friends and family, though you will have to pay them.
Before you set out on your tailgating adventure, make sure you remember a few necessities. First and foremost, sunscreen and water. The early September sun will take no prisoners so lathering up more than once and staying hydrated is a must. For a full breakdown on your tailgate necessities, check out the Gameday Gear Guide on page 17.
If you plan on taking a bag into Kyle Field, make sure it's a clear one and that it coincides with the new bag policy. The University has said that each bag must be one of two things: clear (like a gallon ziplock bag) or a clutch the size of a hand, which does not have to be clear. Of course, exceptions will be made for medical needs. You can still take a see-through water bottle (example: Nalgene's are good).
And, if you're personal tailgating, bring one of your favorite snacks to share or coordinate a whole menu with your friends and family. Start off your Aggie Football experience right with your dream tailgate.
Other Necessary-to-know Texas A&M Tailgate Rules:
Np tailgating on/in any of the university parking garages
Grassy areas within 15 feet of parking lots are reserved for fans assigned to those parking lots
Driving or parking private vehicles on any and all grassy areas and sidewalks is prohibited
Tents or canopies must be secured and may not utilize stakes that penetrate the ground more than 12 inches; in addition, tents greater than 700 square feet or tents greater than 400 square feet with sides require a university inspection in accordance with University Policy. Tents may not obstruct sidewalks, drive lanes or pedestrian walkways. Tailgating amenities including furniture, grills, generators, cables or satellite dishes may not obstruct sidewalks, drive lanes or pedestrian walkways
All grills, propane or otherwise, should be attended to at all times. Fires built on the ground and open fire pit devices are prohibited. All devices must have a cover capable of reducing flareups and ashes and so units can be moved quickly in emergency situations
Where generators are allowed, all generators must be equipped with a noise reducing device
It is unlawful to utilize university electricity for tailgating. Do not plug into any university outlet or power panel for personal use
Pets are not allowed to run at large in tailgating sites or on campus and must be leashed at all times according to local leash laws. Furthermore, animals shall not be left unattended or secured to university property. Clean up after your pets, please
Any person damaging University property will be responsible for the cost of repairs; including damages to grass from cooking grease and sprinkler damage
Texas A&M University is not responsible or liable for accidents, damage, loss or theft of materials/items/personal property left overnight
Remember to have fun and be safe Ags!
[/et_pb_text][/et_pb_column][et_pb_column type="1_3″][et_pb_image admin_label="Image" src="https://maroonweekly.com//wp-content/uploads/2016/09/Tailgate-Certified.jpg" show_in_lightbox="off" url_new_window="off" use_overlay="off" animation="left" sticky="off" align="left" force_fullwidth="off" always_center_on_mobile="on" use_border_color="off" border_color="#ffffff" border_style="solid" /][et_pb_testimonial admin_label="Testimonial" url_new_window="off" quote_icon="off" use_background_color="on" background_color="#136b12″ background_layout="dark" text_orientation="left" use_border_color="off" border_color="#ffffff" border_style="solid"]
GAMEDAY GEAR GUIDE
Grill
Fire Extinguisher
Propane or Charcoal
Matches or Lighter
Extension Cords
Tarps/Tents/Canopies
Bungee Cords/Tie Downs
Coolers
Ice
Pots/Pans
Spatulas
Tongs
Large Cooking Spoons
Cutting Board
Oven Mitts/Apron
Plastic Wrap/Foil
Trash Bags
Paper Towels
Plastic Eating Utensils
Disposable Plates/Cups
Chairs
Folding Table
Can Opener/Bottle Opener
Disposable Aluminum Pans
First aid Kit
Sun Block
Blankets
Generator
Radio/TV
Rain Gear
Heater
Football/Frisbee
Cornhole/Washers
Toothpicks
[/et_pb_testimonial][/et_pb_column][/et_pb_row][/et_pb_section]