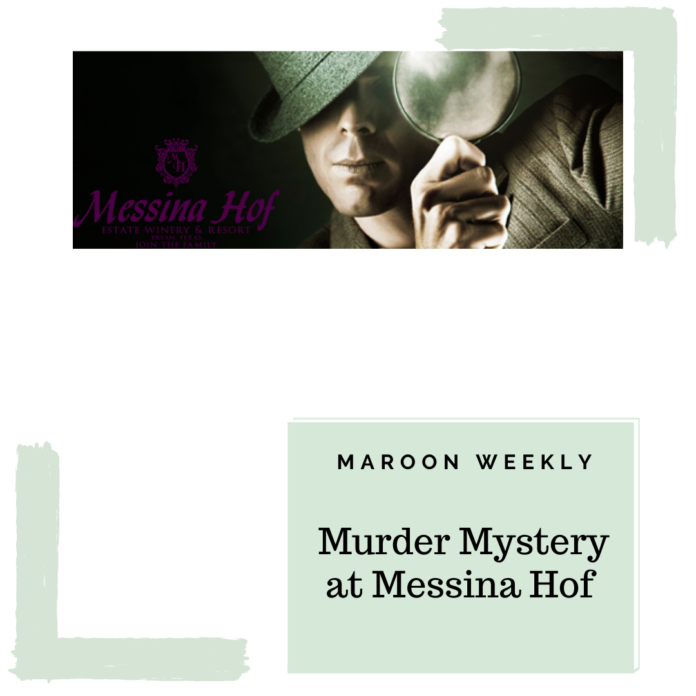 Kick off the summer with a fun twist with Messina Hof's "Clue" Murder Mystery Dinner! There's been a crime at this dinner party, but just who committed the dastardly deed? Colonel Mustard? Miss Scarlet? Professor Plum? It's up to you to find out! Investigate the other guests, gather clues and crack the case before the night is over in this immersive, real-life board game event! "Clue" comes to life on Friday, August 29th from 7-10 p.m.
In between all the excitement and suspicion, patrons to the Murder Mystery Dinner will receive a three-course meal from the Vintage House Restaurant, and each course will include an expertly paired Messina Hof wine to round out the experience. Each ticket holder will be assigned their roles prior to the event so they can prepare a costume to match.
Investigating a murder, of course, is tricky work, so this Murder Mystery Dinner will be guided by a host that will help attendees progress through the clues and get to the bottom of things before the end of the night. Don't miss out on this opportunity to attend a unique dinner party experience filled with adrenaline, excitement and, of course, tasty food and wine!
General admission tickets are $69.95 a person, not including tax and gratuity, and covers admission into the event, dinner and wine. There's also an option to purchase a Couple's Package for $350 plus tax and gratuity, which includes admission, dinner, wine and one night at Messina Hof's The Villa Bed and Breakfast.
Messina Hof's "Clue" Murder Mystery Dinner will take place at Messina Hof Winery & Resort located in Bryan on August 29th at 7 p.m. Tickets tend to sell out quickly, but Messina Hof offers murder mystery dinners regularly throughout the year. 
For more information, visit: https://bit.ly/2XA902R
SOURCES: http://messinahof.com/events/post/clue-murder-mystery-dinner2