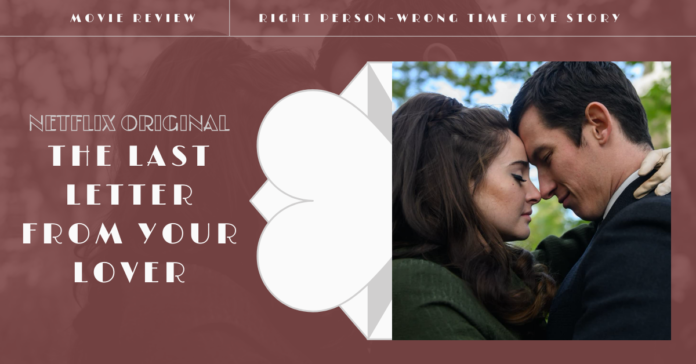 The newly released Netflix original, "The Last Letter from Your Lover," is the epitome of a right person-wrong time love story.
When Ellie Haworth (Felicity Jones), a features writer for a London newspaper, comes across a misplaced love letter from the 1960's in the newspaper's archives, she is swept off her feet by the beauty of the writer's words. After finding more letters, Ellie makes it her mission to uncover the full story of the love affair between the writer, Boots (Callum Turner), and his love, Jenny (Shailene Woodley). What Ellie doesn't realize is that as she uncovers their timeless love story, she becomes entangled in her own with a co-worker named Rory (Nabhaan Rizwan).
This film will take you on a journey through time with its 60's wardrobe, shots of an azure Mallorcan sea and a cozy autumn in London while immersing you in uncovering the mysteries of Boots and Jenny's love affair right alongside Ellie. And in the end, Ellie must decide whether or not she will learn from the other couple's journey and take a risk in opening herself up to love.
Through its many different twists and turns that are sure to play with your emotions, actress Shailene Woodley steals the show by delivering a more sophisticated, serious performance. Compared to her previous films like "Divergent,"Woodley gives the role a complexity that is well suited to the film's themes of love, loss and longing. The film's only drawback is that it leaves you asking questions about the future for both couples and of course wanting more.
So if you're in the mood for beautiful scenery and a love story that transcends time, this period piece provides the perfect end of summer romance for your Netflix queue!