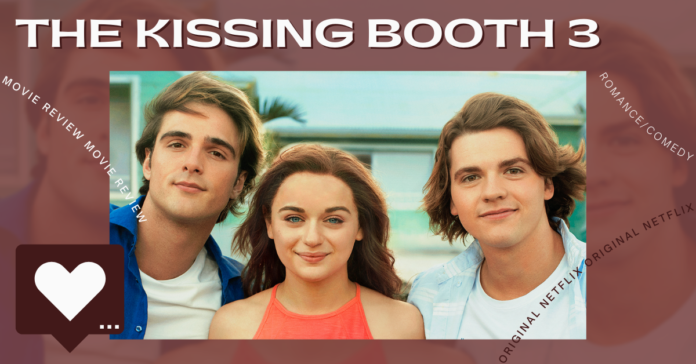 Netflix released the third of its popular film series "The Kissing Booth" on Aug. 11, marking a potential end to the stories many Netflix viewers have followed for four years.
Each of the movies focuses on Elle Evans (Joey King) as she navigates a close friendship with Lee Flynn (Joel Courtney), a boy she grew up with, and the crush she developed on his brother Noah Flynn (Jacob Elordie). The third movie picks up after a difficult year of long distance with Noah. The group, along with Lee's girlfriend, stay at a beach house together for the summer as Evans attempts to commit to a college – either Lee's or Noah's.
The characters begin with high expectations in order to make that summer the best one yet. They base their plans on their childhood bucket list, incorporating sweet universal experiences of growing up and cherishing long-time friendships, even when transitioning apart. Occasionally, these expectations are met with the reality of things not working out how Evans or the boys planned, and the plot revolves around such deceptions and conflicts.
The movie is entertaining and nostalgic at best, but at worst, it's 1 hour and 53 minutes of romanticizing unhealthy behavior. Walking the line of infidelity, disregarding your partner's concerns, choosing a college for a person and lying and expecting the impossible seem to be encouraged in the majority of the movie. It's not until the end that some of these aspects come back to bite the characters.
The movie ends with some sweet full-circle moments relating to the first movie, which seem to put an easy end to the series. Either way, even though things did not work out as planned, things did work out. Perhaps that's the main lesson to take away from the film.