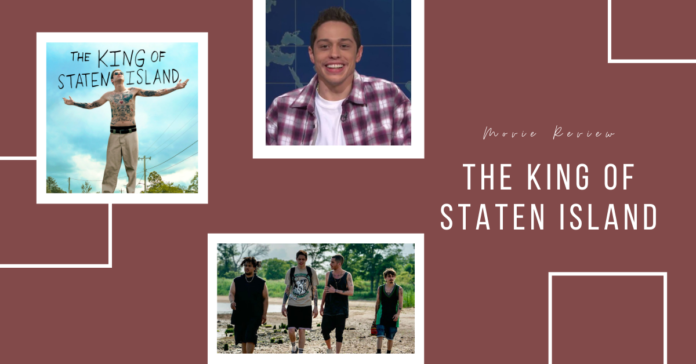 One of the many feature films impacted by the COVID-19 pandemic, "The King of Staten Island" was initially supposed to have a theatrical premiere, but eventually moved to Amazon Prime Video as part of the early access film series. Now that the film has been lowered to a standard rent or buy price range ($5.99 on Amazon), it's become accessible to a wider swath of people. Funny, tender and at times a bit crude, "The King of Staten Island" is a startlingly realistic movie that carries with it a sort of healing power during these uncertain times.
The film stars Pete Davidson, controversial stand-up comic and SNL star known for being briefly engaged to Ariana Grande and being extremely transparent about his own mental health issues. The movie is loosely based on his life, including paying homage to his firefighting father who died when the World Trade Center collapsed. It follows main character Scott, a 24-year old aspiring tattoo artist struggling to achieve his ambitions. Following the childhood trauma of losing his father, Scott has rather rocky relationships with nearly everyone in his life now, including his mother, sister and his mother's new beau. The audience gets to watch Scott grapple with his future, his family and the world at large.
This true-to-life movie definitely takes some depressing turns. Everything about it was well done: the acting, the cinematography, the pacing. The dialogue is completely realistic and absolutely nailed a casual tone. Many of the scenes featuring Scott hanging out with his friends feel incredibly organic, as if the crew found a real-life group of 24-year-olds spending time together and just happened to film it. The movie does a great job of blending important lessons about growing up with the idea that life doesn't always come packaged with a nice little bow. The film does not patronize its viewers by tying up every loose end and giving every character miraculous happy endings. Instead, it leaves some things up to interpretation and gives the sense that it sought not to teach, but only to showcase real life.
For all its bummer plot devices, "The King of Staten Island" is, to some degree, rather uplifting. The subject matter can be a bit harsh, but at the end of the day, it carries with it some universal ideas that pretty much anyone can relate to. Viewers will walk away from this movie thinking about the struggles that we as humans face, a particularly healing thing during these unprecedented times.