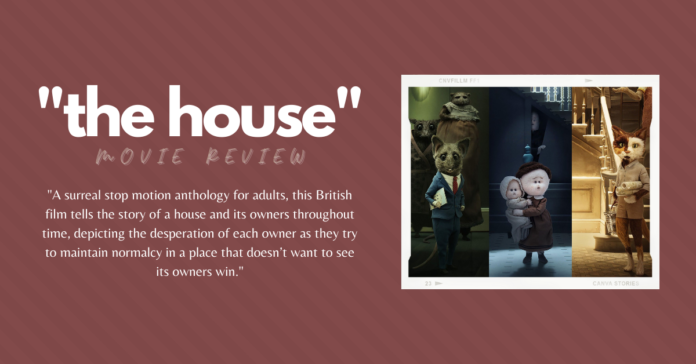 Netflix recently decided to dive into the world of stop-motion with their new movie, "The House." A surreal stop motion anthology for adults, this British film tells the story of a house and its owners throughout time, depicting the desperation of each owner as they try to maintain normalcy in a place that doesn't want to see its owners win.
The first story in this anthology dives into the world of a poor family who has a chance to move into a brand new lavish house under the condition that they must not bring any of their possessions. While things seem excellent at first, the parents begin to fall under the house's trance, leaving their children to fend for themselves against all the house's strange doings.
As the film progresses into the second part of this anthology, viewers meet a desperate contractor who flips the house in an attempt to sell it. However, as the house is finally ready for sale, the contractor discovers a terrible bug infestation. Finally, one couple coming to view the house refuses to leave or sign a deal, and the contractor takes desperate measures to get rid of the couple, which of course backfires on him.
The anthology ends with a story of a struggling landlord, desperate to renovate her building. However, due to flooding, she's left with only two tenants, neither of them able to pay their rent, making it impossible for her to fix her building.
This film is different from most stop motions as it borders on a horror movie, leaving viewers on the edge of their seats as they witness the house's attempts to sabotage its owners.
It's no surprise that Netflix creates incredible movies that capture viewers in a world much different than their own. Although "The House" is the first of its kind, it hopefully won't be the last stop-motion movie that Netflix releases.