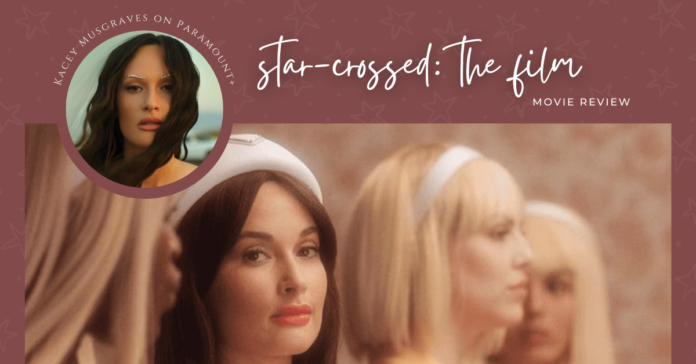 When an artist looks to release a new album, they usually have two to three music videos to help promote it. In the last few years, many artists have expanded on releasing these music videos and instead develop an entire visual album for fans to enjoy. With the release of her fifth studio album, Kacey Musgraves does just that as she premieres "Star-Crossed: The Film."
The film is a "modern tragedy in three acts," that takes the audience on a journey of Kacey's emotions before, during and after her marriage to Ruston Kelly. The intro to the film begins with the audience seeing the actors take their place to tell the story of this brief relationship, and the scene is accompanied by the album's title track "Star-Crossed." Act I focuses on the simple times of her relationship, and despite how troubling things might be, she still wants it to work out. Act II transitions to the ultimate heartbreak that comes with realizing things won't work out. Kacey showcases how at times we might be broken, but we can still put ourselves together again. Act III is where Kacey comes out of the heartbreak and begins to see the light.
"Star-Crossed: The Film" has fun and over the top visuals that capture the deep emotion of the music of the story. The stunning fashion, bright colors, and special guest appearances all add to make this film enjoyable to any viewer. Showing how vulnerable and artistic Kacey is, this "modern tragedy" takes the audience on a roller coaster of all the emotions felt while going through a breakup, or in Kacey's case, a divorce.
This film is now available to watch exclusively on Paramount+.