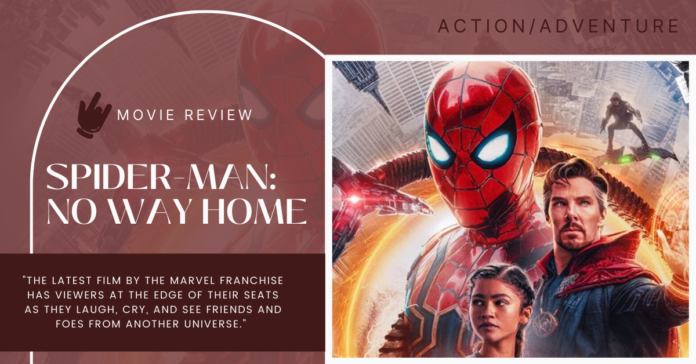 Your friendly neighborhood Spider-Man is back at it again as "Spider-Man: No Way Home" made its way into theaters this past weekend with a record number of sales. The latest film by the Marvel franchise has viewers at the edge of their seats as they laugh, cry, and see friends and foes from another universe.
"Spider-Man: No Way Home" continues the story of Peter Parker and how he must navigate his new claim to fame now that his identity is no longer a secret to the public. Additionally, Parker must face challenges that many teenagers face, like being a good friend/partner and the scariest of all: college admissions.
When watching Marvel movies, talk of multi-dimensions should not surprise viewers. What sets the newest release apart from other Spider-Man movies in the past is the combination of the original "Spider-Man" movies with O.G. teenage heartthrob Toby Maguire and "The Amazing Spider-Man" movies that feature Andrew Garfield. The feeling of nostalgia ignites in viewers as they witness all of the Spider-Men from the past work together to save the world, and this nostalgic element does wonders for the film.
One thing that makes this movie stand out is the sense of humor. Society is shifting from Millennial humor to Gen Z humor, and this shift is ever so present throughout the movie. "Spider-Man: No Way Home" has an abundance of jokes that leaves the crowd erupting in laughter, no matter their age.
At the forefront of this film is emotion. Something that differentiates Spider-Man from his fellow superheroes is that he's just a nerdy, kind-hearted teenager. Viewers witness Parker face a handful of moral dilemmas that reflect the person he truly is. Although Parker wants to take advice from fellow superheroes, he never strays from his dear aunt's advice of giving people a second chance, thereby showing the viewers the Peter Parker they know and love. One drawback to the film is that If you've never seen any of the Spider-Man movies or it's been a while, chances are this movie will be hard to follow, but that's easily remedied by doing some prep work beforehand.
Unlike many movies released during the pandemic which have the option of being watched on a streaming platform, "Spider-Man: No Way Home" will only be shown on the big screen. So if you're dying to see how all of the Spider-Men come together, your best bet is to check local listing times at a theater near you.