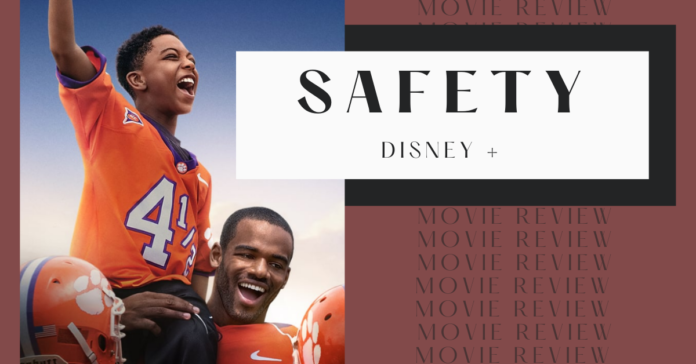 Football fans, we have a must-watch movie for you on Disney +. "Safety" was released Dec. 11, 2020, and is a drama inspired by the incredible story about a former football player from Clemson. The heartfelt film is about college freshman Ray McElrathbey (Jay Reeves) who balances his life as a student-athlete while caring for his 11-year-old brother, Fahmarr (Thaddeus J. Mixson).
Unfortunately, since a kid isn't allowed to live in a dorm, the McElrathbey brothers have to be sneaky so nobody finds out Fahmarr has been living with Ray. The climax hits when this detail becomes known to the football team and university.
The storyline is comprised of scenes filled with humor, family, and of course, football, all while depicting the story of the McElrathbey brothers, and there are some pretty sad moments in the film about the challenges the boys face related to providing for themselves and not having a responsible parent in their lives.
Ray is torn between choosing football on a full-ride scholarship or caring for his brother so that Fahmarr doesn't go into foster care. No one should have to make that kind of choice.
Jay Reeves did a phenomenal job at showcasing Ray's personal life, diving into the role of parental figure. The chemistry between Reeves and Mixson is strong enough to make them seem like real brothers, making it clear these two actors really brought their A-game.
"Safety" is perfect for family movie night! It's rated PG and great for all ages, from the kiddos to the grandparents! Get the popcorn and candy ready for all the family to enjoy.
Source: