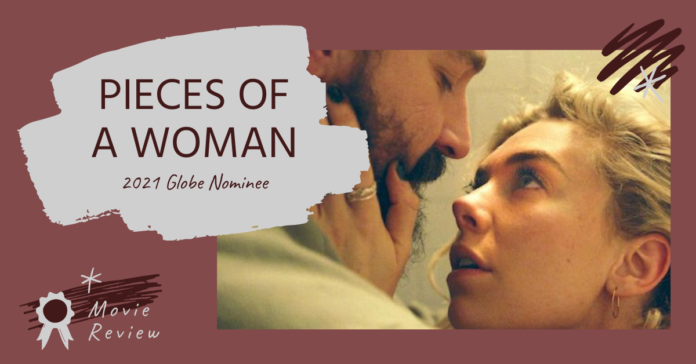 Featuring plenty of heartbreak and betrayal, R rated "Pieces of a Woman" is a movie that reaches in and grabs you and won't let go. "Pieces of a Woman" became available in the United States on Netflix Jan.7 of this year and since then has had numerous nominations for academy awards.
Martha Weiss (Vanessa Kirby) is expecting her first child. Martha and her partner, Sean Carson (Shia LaBeouf) decide to partake in a home birth, but when Martha goes into labor and Sean calls their midwife, she sends another woman to deliver their child. Martha delivers a beautiful baby girl but this joyous moment does not last long as the child dies.
Martha and Sean begin to seek answers for what could have gone wrong, and while Martha is emotionally and physically struggling from the loss of her baby, Sean is angry and believes that their new midwife could have been the reason why their daughter did not survive. Not only is Martha's relationship with Sean struggling, but conflict arises with her mother, who pushes to have a funeral for the baby. Martha is clearly not ready to come to terms with her loss, and at the same time, her mother is shaming her for choosing to deliver her baby at home.
Sean fares no better, beginning an affair as well as returning to drugs after being sober for seven years. Martha must face testifying in court all alone while she also seeks answers for what happened and continues to struggle to find peace.
Vanessa Kirby masterfully portrays a wounded and suffering woman, now lost without her child, and her outstanding performance has won her a nomination for Best Actress at the 2021 Golden Globes.
Sources: