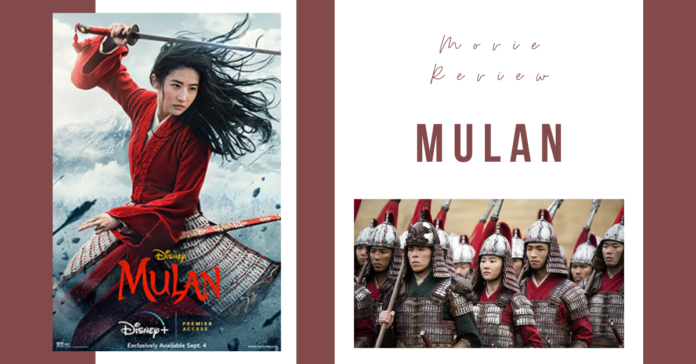 Disney's 2020 remake of long esteemed children's movie Mulan made its debut on Disney Plus on Sept. 4 of this year. When the emperor of China announces that one man from every family in China must serve in the Imperial Army to battle the northern invaders, Hua Mulan, the eldest daughter in her family, steps in to take the place of her ailing father, who is a respected warrior from his own time. Masquerading as a man, Mulan battles the Imperial Army and combats every obstacle that comes her way. Mulan is tested mentally and physically throughout the movie as you watch her unlock her true potential, and her fantastical journey shapes her into an honorable warrior worthy of respect from her grateful nation and her father.
Remakes of beloved movies always present a tough challenge to the creators who venture to redesign a classic. They must preserve the characteristics and quirks of the first film that made viewers fall in love with it without confusing a first-time viewer. Their quest is to make an exciting new film that isn't predictable but still satisfies the nostalgia of the long-time fans. So did 2020's Mulan rendition uphold the high expectations set before it? Yes, in fact it did.
In this rendition of the 1998 film, director Niki Caro preserves the fundamentals of the original movie but also zeroes in on the intense fights and action scenes to keep the audience on their toes. Mulan's role as an exceptional fighter possessing the natural energy of "chi" is also a focal point of the movie. Borrowing from Chinese cultural beliefs, chi is the basic component of all things that exist and is the force that enables Mulan to be such a skilled fighter.
All her life, Mulan has hidden these powers because they were traditionally only used by men. By going into battle to protect her father, she is able to embrace who she truly is and use her supernatural abilities.
The 2020 version of Mulan does include some slight alterations from the first version. Though Mulan's admirable sidekick Mushu doesn't reappear in the 2020 adaptation, the movie makes up for it with the comedic elements of Mulan trying to hide her true identity as a woman. She continually feuds with her fellow soldiers throughout, which always causes the viewer to wonder, "will she be found out this time?" Additionally, instead of including the musical numbers from the preceding film, instrumental versions from the original soundtrack serve as background music. This aids in focusing on the action of the movie, rather than identifying it as a repeat of the initial motion picture.
Overall, Disney's 2020 Mulan presents a modern take on the 1998 classic that captured so many hearts. Its vivid cinematography and obvious creativity transform the original movie into something more exciting and suspenseful while still paying tribute to the novelty we all know and love.
Sources:
https://movies.disney.com/mulan-2020