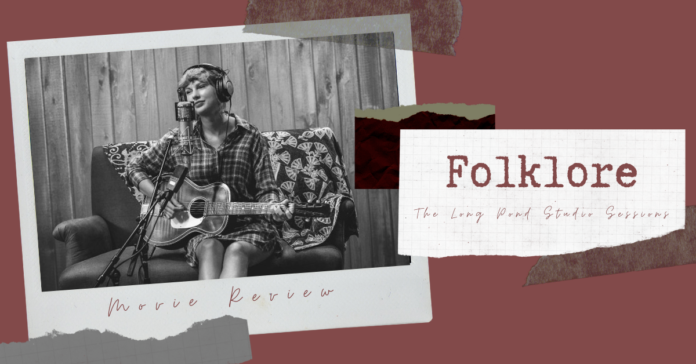 Taylor Swift rocked the internet back in July when she surprise-released her 8th studio album, "folklore." It comes as no shock, then, that Swift also dropped a "folklore" concert film with almost no warning, announcing the morning of November 24th that it would be available to stream on Disney+ beginning at midnight. The film is touching, poignant and altogether intimate, giving viewers an exclusive peek behind the curtain of Swift's songwriting and album production.
"folklore: the long pond studio sessions" was filmed in a socially distant manner back in September in upstate New York. The scenery that punctuates Swift's track performances is breathtaking and nicely sets the tone for the refreshingly laid-back album as a whole. Watching Swift interact with two of her collaborators around a campfire, telling the stories behind the songs, soothes the soul. Each track is opened with some brief footage discussing the process of putting the song together and how it represents an aspect of the album, and then the film cuts to Swift performing the song in a cozy recording studio.
The film is part album, part movie, but it's oddly engaging. Watching Swift, up close and personal, as she sings such personal songs gives the viewer an extra insight into the emotion behind these lyrics, as do the behind-the-scenes anecdotes shared between tracks. "folklore: the long pond studio sessions" is a really cool way to experience the "folklore" album that has been captivating fans for the past four months. Even if you've never listened to it, this film is an excellent, all-encompassing introduction to "folklore." The calming rhythms and deep-cut lyricism is fairly universal, and definitely a tone that most people could enjoy right now.
"folklore: the long pond studio sessions" is available to stream on Disney+.