With movie theaters shut down and new programming limited, you're probably turning to the latest Netflix movie this summer. Some are definitely better than others. Released on July 16, the psychological thriller movie "Fatal Affair," directed by Peter Sullivan, ranked #4 in the U.S. just days later.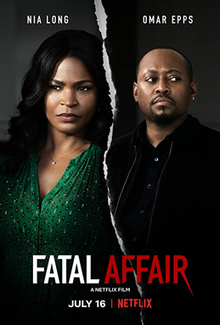 The film follows Ellie Warren (Nia Long), a successful lawyer who rekindles a relationship with her former colleague, David Hammond (Omar Epps). Ellie lives the perfect life: she's a married woman and mother living in a beautiful, beachfront home on the coast of California. But after just one encounter with David, she puts her entire life at jeopardy and soon realizes how big of a mistake this is when he begins to stalk and harass her.
There's a lot to like and dislike about this film, but one thing for sure, it'll definitely keep you intrigued in the best and worst ways, Much of the film is predictable, but a few twists and turns are thrown into the mix to shake things up a bit. Truth be told, it's full of questionable acting, laughable plots, and a ton of overdilogue, along with a bunch of recycled material from other various Netflix movies like "Secret Obsession" and "Fanatic." Nonetheless, "Fatal Affair" manages to be the perfect combination of thrill, betrayal and complete bizarre infatuation.