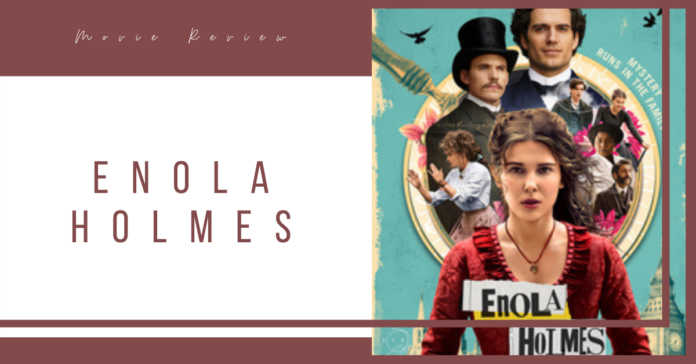 Those that love mystery and adventure are going to enjoy the new Netflix original movie "Enola Holmes." Giving a feminist twist to the original Holmes' tale everyone knows, the movie is based on the book series "The Enola Holmes Mysteries" by Nancy Springer.
Enola Holmes (Millie Bobby Brown) is on a mission to find her mother after she disappears on Enola's 16th birthday. About to be sent away to finishing school by her older brothers Sherlock and Mycroft Holmes, (Henry Cavill and Sam Claflin), she runs away to London in hopes of finding her mother (Helena Bonham Carter) and uncovering her secrets. There she unravels just who her mother is and helps a young Viscount Tewkesbury (Louis Partridge) figure out who wants him dead.
The movie is lighthearted and fun, with Enola being a witty character that is able to uncover clues and help others. The only fault of the movie is the excessive need to break the fourth wall, Enola continuing to narrate for the audience. The narration can be annoying at times, yet when Enola gives a knowing look into the camera, it's bound to cause a laugh. There is fun humor throughout the movie that makes it easy to watch and understand.
The movie makes a point of showing that Enola is not like the ordinary English girl at the time: she does not hide her intellectual abilities, she's not very proper, and she knows jiu jitsu. While in many movies, the trope of 'not being like everyone else' can be a bore, in this movie it works, revealing just how brave and strong headed Enola is. She's a fun-loving character and audiences are rooting for her to solve the mystery of finding her mother while outwitting her genius brother Sherlock at the same time.
"Enola Holmes" is a fun and quirky film that showcases that being a girl isn't a bad thing. The characters, storyline, and pacing are nicely written. It's already scheduled for a sequel, so the tales of Enola Holmes are here to stay.