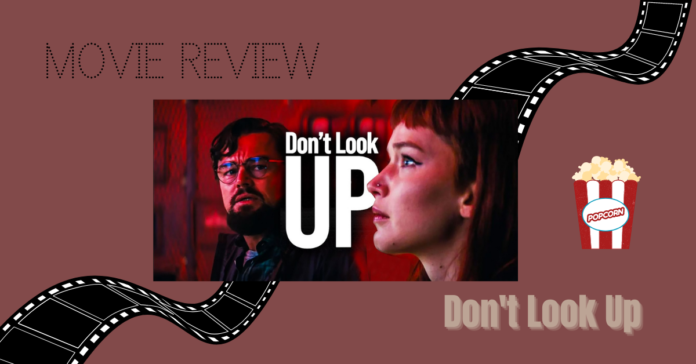 A comedic movie featuring numerous stars, "Don't Look Up" explores many of the themes we've been living with the last few years. This Critics Award Nominee is by turns painfully hilarious, clever and entertaining as it mocks American society.
Leonardo DiCaprio, Jennifer Lawrence, Cate Blanchett and Meryl Streep, among other big stars, deftly move us along a plot involving two astronomers who discover a deathly comet heading towards Earth that will completely destroy it. Meanwhile the government chooses to look the other way, believing a tech developer capitalist can save the planet and make money at the same time.
The two main characters in "Don't Look Up," Jennifer Lawrence and Leonardo Dicaprio, undergo the stress of media scrutiny while trying to get their point across that the comet will kill everyone and that the only possible solution is to blast it to smithereens before it makes contact. Many people listen, but a larger and more concerning number of Americans don't believe that the comet even exists and ignore the danger that awaits them.
Regardless of your personal views on politics, the similarities between America's current government and the movie's fictional government are undeniable and quite obvious, especially in Streep's performance as U.S. President Janie Orlean.
In spite of stellar performances from the actors, critics are in an uproar over the film, with writer-director Adam Mckay receiving major backlash concerning the movie's messaging on climate change. What critics do agree on is the movie's portrayal of, as Rotten Tomatoes calls it, "our collective denial."
Basically, the movie excels at providing a two hour and 18 minute emotional rollercoaster snapshot of what we've been through the last two years and how we've tried to handle it, so this one's not a great choice for date night, unless you're both into deeper level discussions of the state of the nation.
Additionally, the film is controversial and at times seems over the top inappropriate. It's also concerning as an American living through the reality of modern politics. But don't be too quick to blame everyone else because the chest you're poking may end up being your own. All of which makes "Don't Look Up" a must watch.