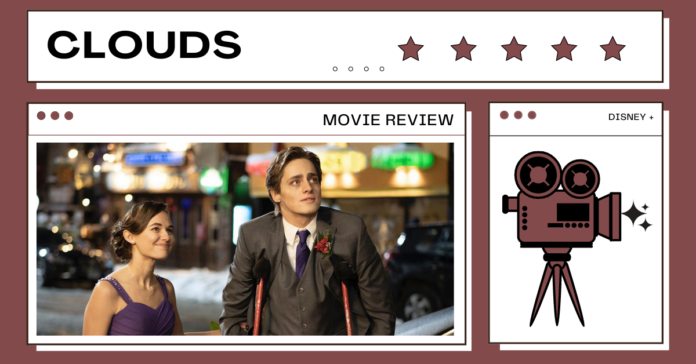 Grab the tissues for this incredibly heartfelt movie based on the true story of Zach Sobiech's life. Yes, it's a sad movie, but even y'all who don't like watching movies that make you tear up, you must see it if you enjoy films based on true stories.
"Clouds" was released on Disney+ on Oct. 16, 2020, and features Fin Argus as Zack and Sabrina Carpenter as Sammy, Zack's best friend and the second half of Zack's band named A Firm Handshake.
Watching an inspirational movie puts your thoughts into perspective, especially when it's about a teenager who is remembered as being a positive influence while dealing with a difficult situation himself. Zack lived his final days to the fullest; he found love, music, and adventure.
It's amazing how a 17-year-old boy who is faced with death due to a rare bone cancer uses his talent as a musician to share joy with the world through song while he is slowly suffering. The movie is not only filled with devastating moments, but it includes laughter and great music written by Zach Sobiech and Sammy Brown.
The hit single "Clouds" by A Firm Handshake was released in 2013 and charted the Billboard Hot 100. After the film was released in October 2020, the song topped the iTunes chart at spot number one. You can find the movie soundtrack as well as A Firm Handshake albums on music streaming services.
The film was directed and produced by Justin Baldoni, the same guy who directed "Five Feet Apart" and played one of the main characters, Rafael Solano, in the "Jane the Virgin" series. Baldoni might have a thing for directing emotional dramas, but boy, he sure is talented in bringing a true story to life on the screen.
"Clouds" is a great movie for family movie night if you haven't found one yet! However, the film is rated PG-13 due to brief strong language. Other than a few inappropriate words, the movie is suitable for families with older children.
Don't miss this moving tribute movie to living in the moment! For more information about Zack Sobiech's life, click here. Don't forget to check out the trailer!
Source: