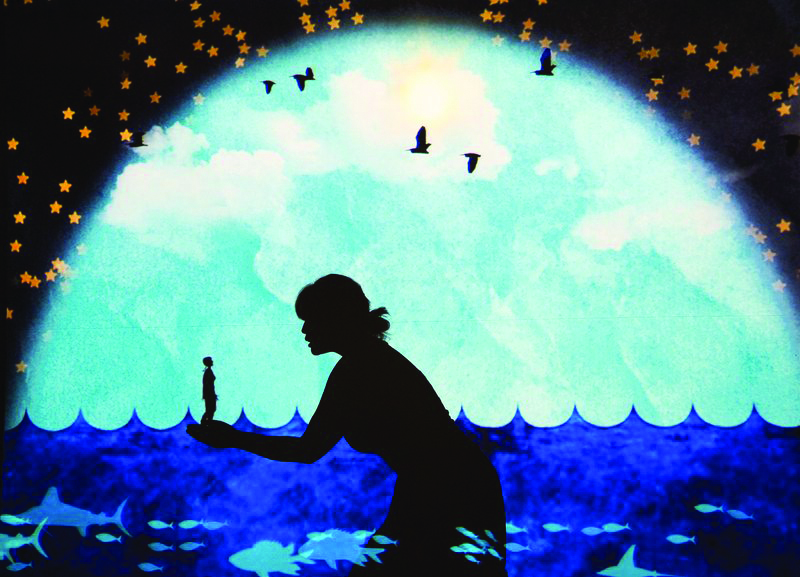 It is rare to watch an artist interact with her own work, but Miwa Matreyek is coming to the Academy for the Visual and Performing Arts with this very opportunity. The artist and the animator collide against the screen—and the result is hyper-creative. Her work is presented in two parts, entitled "Myth and Infrastructure" and "This World Made Itself." She will perform at 7 p.m. on October 11 at Rudder Forum.
Matreyek is a performance artist who uses her body to cast shadows against a screen of her projected animations, playing with the disparity between movement and stillness. This two-tiered medium enables Matreyek to help us see our world and our human experience in new ways. She explains, "'This World Made Itself' is about the history of the earth, from it's fiery beginnings, through evolution, to the complex world of humanity. This piece explores imagining the world around us from different perspectives, a consciousness that is often beyond human." Of "Myth and Infrastructure," Matreyek says, "I was interested in cycles of creation and distraction, a feeling of how creativity sometimes feels like magic."
She often moves in a way that is counter to the projected work, so that her physical being interacts with her moving creations to demonstrate the visual possibility of performance art. The artist's visual creativity, set to a hipster soundtrack, exudes the surreal through her compilations of multiple physical spaces. "I would love the audience to walk away with a feeling like they experienced a dream," Matreyek says, "something that is ephemeral but almost feels like a first-hand experience."
Her fantastical imaginings explore how natural and urban environments respond differently to the life within them, while also demonstrating that these two settings share the same sky. She reveals various scenes of the natural world—verdant landscapes, starry spaces, fishy seas—in stark contrast to city imagery. All the while, the artist's body moves in conversation with her visual art, becoming part of the performance.
Tickets to this visual indulgence can be purchased from the MSC Box Office online, in person, or by phone. The rates are $7 for adults and $5 for students. Don't miss this unique opportunity to experience the intersection of visual and performance art.