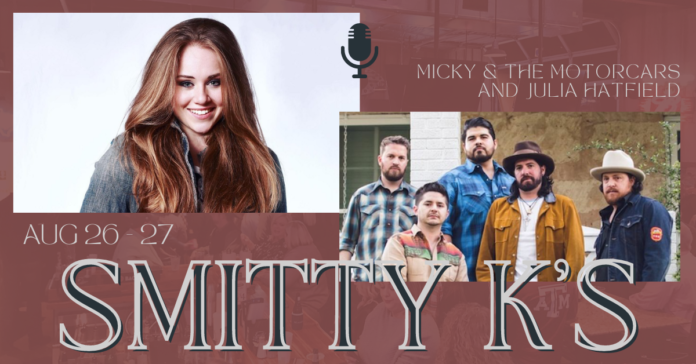 The only thing better than hearing great music with an ice cold one in your hand is getting to do that up close and personal, and if that's your style, Smitty K's is the place to be! With over 20 TV's, 8 cold beers on tap, and multiple concerts per month, the Aggie owned and operated sports bar and grill has both a great laid-back environment and great food. This week they will host alternative country band, Micky & the Motorcars on August 26 and modern Americana music artist Julia Hatfield on August 27.
Touring for the past 17 years, Micky & the Motorcars have brought their alternative country music to multiple states around the U.S., including Texas, Colorado, Arizona and Oklahoma. The Idaho originated band was started by two brothers, Micky and Gary Braun. Micky leads with vocals and acoustic guitar, Gary takes on guitar, harmonica, mandolin, and vocals, and they're joined by Joe Fladger on bass, Bobby Paugh on drums and Pablo Trujillo on guitar. The group's latest album, "Long Time Comin'" consists of 11 songs that are sure to get you two-steppin with your lover or cracking open another one with friends. Tickets for Micky and the Motorcars are currently on sale for 15$ on Smitty K's website, and the show starts at 8:00 p.m.
The Texas country singer and songwriter Julia Hatfield is an up-and-coming female artist who has already garnered four top 50 singles and earned the Texas Regional Radio Awards' new female vocalist of the year in 2018. By combining an old-school country sound with her young spirit, Julia is making a name for herself. Hatfield released her first EP, "Halfway Here" in 2019, including her cover of Tom Petty's "I Won't Back Down," which was featured on the national TV documentary of Tom Petty's life, "Won't Back Down." Hatfield takes the stage at 7:00 p.m., and since there's no cost for the show, be sure to get there early to get a good spot.