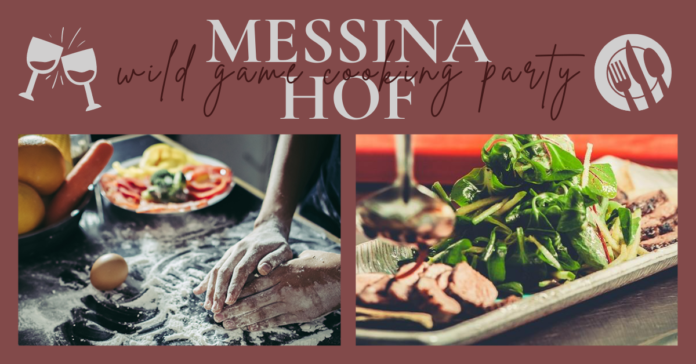 Saddle up! The Messina Hof Winery is hosting another Cooking Party on May 16 with one of their most exotic themes to date: Wild Game! The monthly Messina Hof Cooking Parties each focus on a unique cuisine or technique and are designed for everyone to have fun and learn something new—whether you're a seasoned chef or it's your first time in the kitchen. Let's get cooking!
As with any Messina Hof Cooking Party, you can expect amazing dishes that tantalize your taste buds, and with the Wild Game party, you can expect things to be a little wilder. The first course will be a black bean salad followed by elk steaks with fingerling potatoes and the chef's vegetables for the entree. The main course will also be accompanied by a wild boar cutlet with a mushroom white wine cream sauce, definitely adventurous but in the delicious kind of way. Hopefully you've saved room for dessert, so you can top your night off with a sumptuous chocolate wine cake!
The dishes will each feature a Messina Hof wine in the ingredient list and every course will naturally be paired with a Messina Hof wine as well. And of course, guests will come home with some new kitchen tricks as well as a take-home recipe booklet and a chance to win some exciting culinary door prizes.
If you attend six of Messina Hof's Cooking Parties, you're eligible to become an honorary Vintage House sous chef and receive a 10% discount on cooking parties in the future. Attend 12 Cooking Parties, and you'll receive an official Messina Hof chef's coat. Now that's cooking in style!
The Wild Game Cooking Party will be held on Sunday, May 16 from 1-3 p.m. at The Vintage House Restaurant on the Messina Hof property in Bryan. Tickets are available for purchase here and are for sale for $69.95 per person plus gratuity.
Sources:
Interview with Messina Hof