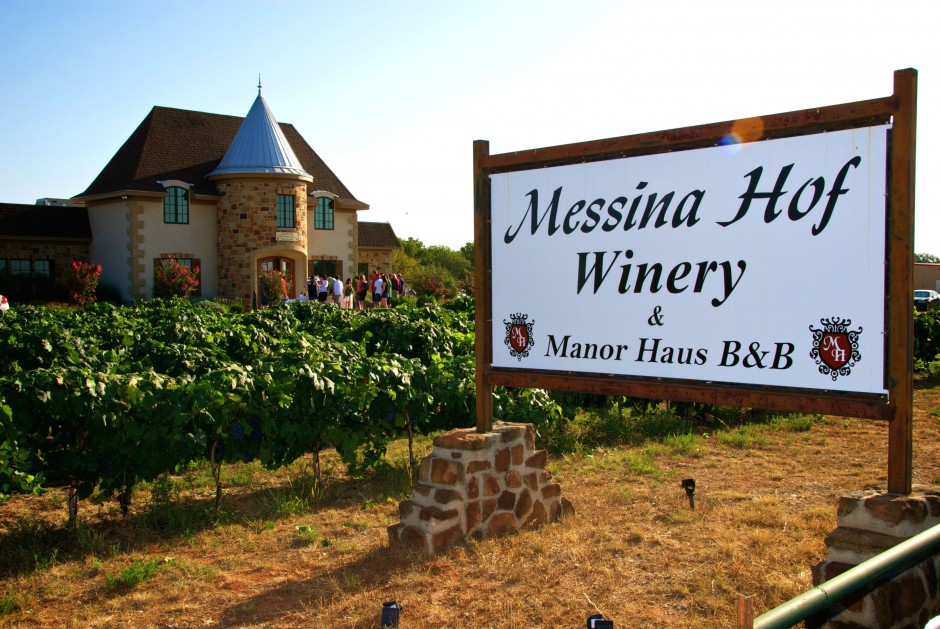 By Adrianna Zampieri
For a weekend of guaranteed fine wine, delicious food, and good times, look no further than Bryan's own Messina Hof Winery & Resort. Officially established in 1983, this award-winning winery knows how to entertain its visitors. Each day from Friday April 22 through Sunday April 24, Messina Hof hosts a special event that will transform your weekend from snooze-worthy to the time of your life.
Spring is here, and with a new season comes new wine. Start your weekend right on Friday at 7 p.m. and join Messina Hof at their Spring Release Wine Dinner, their first wine release of the year. You'll be wined and dined during an elegant five course meal, consisting of sautéed halibut cheeks, daikon and fennel bruschetta, watermelon caprese, sesame crusted halibut, and for dessert a glory lemon curd topped with pistachio dust and raspberry coulis. Skillfully paired with their newly released wines and vintages, you can expect nothing less than the best with this meal.
But what's wine, food, and pleasant company without fine art? You'll also receive the opportunity to partake in a silent auction co-hosted with The Arts Council of the Brazos Valley, an organization dedicated to making the arts accessible to all residents and visitors of the Brazos Valley. The entries for the Messina Hof's Wine 2016 Texas Wine Label Competition will be available for viewing, as well. You can vote for your favorite at their annual Wine & Roses Festival the following day on the 23rd.
From 11 a.m. to 10 p.m., April 23 is a day for tasting wine, listening to live music, and stomping on grapes. The 32nd Annual Wine & Roses Festival at Messina Hof celebrates the budding vines and blooming roses of the Messina Hof estate, inviting local vendors and artisans to the grounds and scheduling a number of activities every wine enthusiast can enjoy. General admission is free; however, if you're itching to swirl your glass and do some tasting, you'll need to purchase the tickets online from the Messina Hof website before the festival.
A festival isn't complete without entertainment, and Messina Hof delivers. Take delight in watching the Grape Stomp Competition or compete yourself (be sure to register and buy a ticket if you're eager to stomp on some grapes). Hosted by KBTX's Brazos Valley This Morning team, each team is challenged to fill a bottle in two minutes with the juice they've stomped, and the champions will be crowned at 5:30. Throughout the day, Messina Hof will have live music, including the musical talents of Brandon Rhyder, a known staple in the Country and Red Dirt scene, and Parker Heights, a band that has shared the stage with the likes of Cody Johnson and other well-known country music stars.
Although we love our country music, wine is clearly the star of the show. All over the estate, red and white wine tents will be eagerly awaiting your arrival, offering you samples of an assortment of wines to taste. Venture to the Wine Bar and Tasting Room for a few more sips. Learn how to expertly pair decadent chocolates with award-winning wines during a class led by Karen Bonarrigo. This event is known to quickly sell out, so snatch up a ticket before you lose the chance to experience chocolate heaven. Finish your day at the festival with a hearty, juicy steak and a glass of wine served from 4 p.m. to 7 p.m. at the Estate Wine Cellar. This meal also requires a special ticket.
Cross the finish line of your weekend with the Wine & Roses Half Marathon & 5K on Sunday. The result of a partnership between the Messina Hof Winery & Resort and Race Texas Sports, the race starts at 7 a.m. and winds through the scenic Messina Hof estate. Participants will receive a custom shirt, commemorative wine glass, and a unique wine stopper medal at the finish line. If you get tired while running, then take a quick break to enjoy a sip of wine because wine tasting stations will be set up along the vines of the course that are exclusive to the runners.
From a five-course meal to a grape stomping competition, the Messina Hof Winery & Resort offers a variety of flavors and festivities.