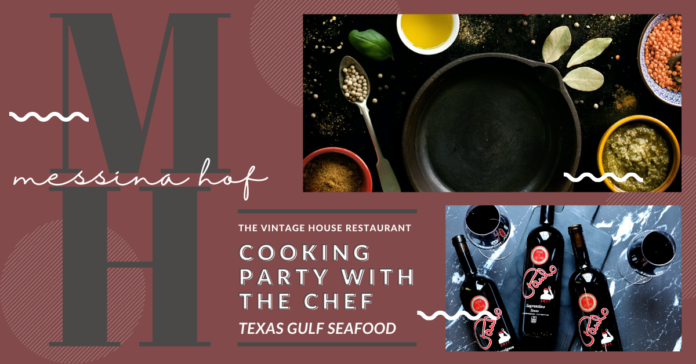 As summertime rolls in, the get-togethers with friends and family become a fun part of the daily routine. Warm nights lend themselves to gathering outdoors over great food, and learning how to bring some extra flare and flavor to meals can help you leave your mark as the go-to chef for summer parties. But where do you even start in getting your foot into the culinary world? Look no further by joining Messina Hof on Sunday, June 20 from 1-3 p.m. for this month's Cooking Party where you'll learn how to prepare Texas Gulf Seafood.
Messina Hof's monthly Cooking Party with the Chef has fostered a unique culinary culture and tradition for years, and this month's party gives participants the chance to learn new techniques and winning ways with our region's seafood. As always, each dish will feature Messina Hof wine as an ingredient, and will also be paired with the perfect glass to complement the flavors. Whether you already know your way around the basics or are just putting on an apron for the first time, all skill levels are welcome. Every guest will also receive a recipe booklet so you'll be able to recreate the dishes at home.
If you attend 6 Cooking Parties you'll become "an honorary Vintage House sous chef" and receive a 10% discount on parties happening later on in the future. If you're eager to become the best chef ever and need more motivation to join these parties, you can also receive an official Messina Hof Chef's Coat if you attend 12 parties.
The event will be held at The Vintage House Restaurant at Messina Hof Winery & Resort in Bryan. Everyone in attendance will be given the chance to register in a drawing to receive some great culinary door prizes. Tickets can be purchased here for $69.95 plus gratuity and fees. Whether you're heading out solo to expand your culinary skills or enjoying a day out with dad on Father's Day, this month's cooking party has something for everyone to enjoy!
Sources:
https://www.cellarpass.com/events/cooking-party-with-the-chef-texas-gulf-seafood-7519?_ga=2.154652476.502222444.1623152612-343106302.1623152612