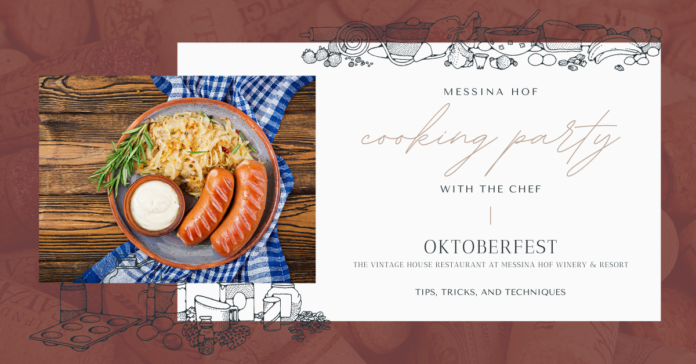 With fall just around the corner, it's a great time to start gathering together some recipes to have on-hand for the holiday seasons, and with Messina Hof's Cooking Party with the Chef series, you won't have to do it alone!
September's installment of the cooking series will be introducing the colorful and hearty cuisine that accompanies Germany's beloved Oktoberfest celebrations, and Messina Hof wine will be a part of every dish. After the party on Sunday, September 19 from 1-3 p.m., you'll walk away with a recipe book and a cornucopia full of tips, tricks, and techniques sure to wow the next guests you cook for.
It doesn't matter if you're a seasoned cook looking to expand your horizons or if you tend to stumble around a kitchen—Messina Hof has you covered. This hands-on cooking party will not only leave you with new tricks up your sleeve but also a full belly.
The award winning winery has been hosting these cooking demonstrations for over a decade now, bringing knowledge from talented chefs straight to you each month. Attending 6 cooking parties will distinguish you as an honorary Vintage House sous chef (bragging rights included) which also promises 10% off of tickets for future cooking parties. If you attend 12, Messina Hof will give you a very lovely and very official Messina Hof Chef's Coat that will do the bragging for you!
As always, this month's party will be held at Messina Hof's Vintage House Restaurant. Spots have been known to fill up quickly, so pull out your calendar and reserve early! Tickets can be purchased here for $69.95 plus gratuity and fees.