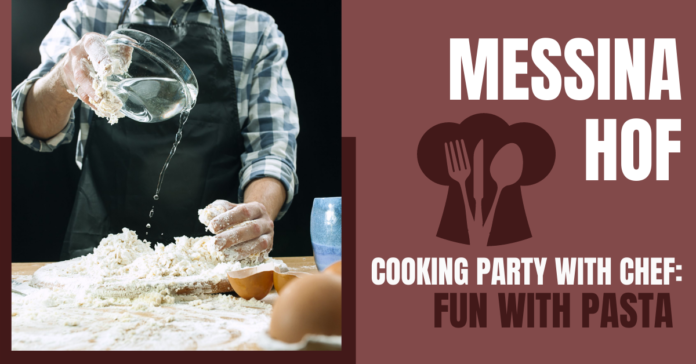 We all have that one life skill we want to get better at. For some people it's knitting, for others it's fixing cars, and for a lot of us, it's cooking. Sure, you can read books or watch YouTube videos, but nothing beats in-person, hands-on instruction, especially when it comes to making delicious food. With Messina Hof's July Cooking Party, that is exactly what attendees can expect!
For over a decade now, Messina Hof Winery has been hosting monthly cooking classes known to the community as "Cooking Parties." Each month has a different theme focusing on a specific dish, with July's being "Fun with Pasta." Like most cooking classes, students are provided with every ingredient. But one fun wrinkle in a Messina Hof course is that their award-winning wines are always featured in each recipe. Of course all the food that you make, you get to eat, so attendees will be able to taste the mouth-watering flavors of fresh, home cooked pasta straight from the pan.
Messina Hof's parties welcome cooks of all skill levels. For those of us still new to cooking, the parties go over everything you need to know, and for the more experienced chefs out there, they provide information on spices, cuts of meat, tools, and other advanced tricks and tips. Repeat attendance to Cooking Parties is also encouraged, and after six parties, you receive the title of Honorary Vintage House Sous Chef and a 10% discount for future Cooking Parties. After twelve parties, you'll receive an official Messina Hof Chef's coat.
Tickets for the Messina Hof Cooking Party can be found online for $69.95 per person, plus gratuity. Everyone will receive a recipe booklet and are entered for a chance to win various culinary door prizes that could come handy at home. The July Cooking Party is scheduled for Sunday, July 18, from 1-3 p.m., in the Vintage House Restaurant at Messina Hof Winery & Resort on Old Reliance Road in Bryan.