Winding down the hot month of July means it's grape season at Messina Hof, so if you haven't experienced their Harvest Festival, you've still got time! For the next two weeks, join in the fun at Messina Hof Winery and Resort and experience the wonder of winemaking firsthand.
Start off by attending one of the Daytime Harvests on August 1st, 8th, or 15th from 8 a.m.-1:30 p.m. Guests can expect a fun-filled morning, including a Harvest Orientation with the Winemaker in the Gallery followed by grape picking and stomping in the vineyard. Take your photo at the Big Kahuna picture station at the back of the Vintage House Restaurant and finish up with a winery tour and a tasting. Choose from several ticket options: a general admission tour that includes all of the above (The Harvest Pass $35), a plus pass for the general admission tour along with a glass of wine and a box lunch filled with Treberwurst quiche, a crisp potato pancake, fresh fruit cup, and a chocolate croissant (The Harvest PLUS Pass $60), and bring along the kids on a children's pass for those 12 and under (Children's Harvest Pass $12).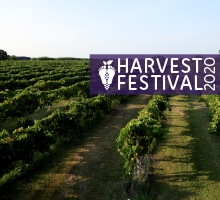 If daytime is too hot, try the Moonlit Harvest on August 7 from 7:30-9 p.m. The evening version features all of the attractions of the Daytime Harvest, adding on a harvest buffet featuring a salad bar along with main dishes of Treberwurst with caramelized onions and German-style mustard and pan-seared salmon fillets topped with a Messina Hof Private Reserve Chardonnay, dill, and lemon butter sauce. Side dishes included in the buffet will be house mashed potatoes, mushroom rice, and a seasonal vegetable medley. Save room for dessert—bread pudding with caramel sauce and tiramisu. Yum! A Moonlit Harvest ticket includes grape picking and stomping, a Harvest shirt, and the reserved dinner buffet in the Gallery for $59.95.
Last but not least is the Grand Finale Gala to be held on August 15 at 7 p.m. During this cocktail hour inspired event, guests will be able to experience an elegant evening of new wine releases, gourmet Vineyard Cuisine™, and Messina Hof will officially be announcing the winner of The Texas Artist Wine Label Competition that was voted on this spring. Along with a wonderful dinner, Messina Hof's Winemaker will introduce each wine and walk guests through the pairings. Tickets for this event are still available for $99.95 per person.
Messina Hof has placed top priority on continuing to make the health and safety of their guests and staff their biggest concern, including limiting guest capacities and sanitizing venues daily.
Come celebrate their 43rd harvest with them!
Sources: http://messinahof.com/events/post/daytime-harvest-festival31 http://messinahof.com/events/post/harvest-cellar-tour-and-dinner http://messinahof.com/events/post/moonlit-harvest http://messinahof.com/events/post/daytime-harvest-festival21 http://messinahof.com/events/post/daytime-harvest-festival http://messinahof.com/events/post/grand-finale-gala1