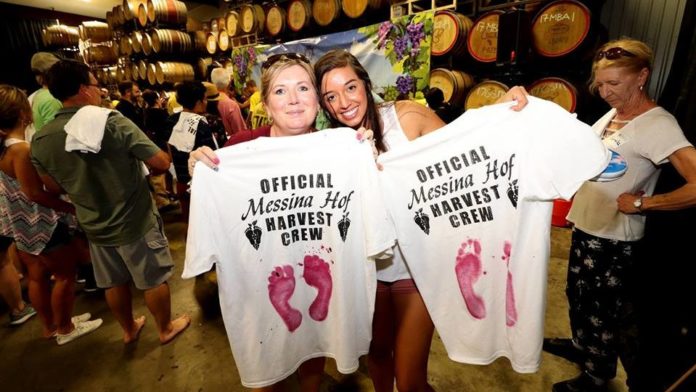 Kick off grape harvest season with a grape-smashin' good time at the annual Messina Hof Harvest Festival! For over 40 years, folks have come from far and wide to pick and stomp grapes and enjoy some delicious Texas wine. So keep your Saturdays clear from July 26 to August 18 because there's plenty going on at Messina Hof, and Marketing Assistant Alexandra Hall says this is a great opportunity to "experience one of the oldest Texas wineries right here in your backyard!"
The Harvest Festival marks the best time in the vineyard when all the hard work pays off with luscious, juicy grapes, and Messina Hof throws a huge celebration full of fun to mark the occasion.
Don't miss these three weekends of fun where you can get involved in the winemaking process! "We have a number of specialty events and dinners that we encourage guests to experience as well during Harvest Festival," Hall says. While some of these specialty events are already sold out, including the popular Harvest Kickoff, the Murder Mystery Dinners and Harvest Cellar Tour, you don't have to worry because there are plenty of events left for you and the whole family to enjoy!
Purchase a Harvest Ultimate day pass for August 3 or 10 and start the day off by meeting the Winemaker. Pick grapes in the vineyard, watch—or better yet, enter—the Big Kahuna talent contest. But that's only the start. Hall says, "During Harvest, guests will be able to pick and stomp the very grapes grown at Messina Hof Estate that will become our award-winning Port wines!" So get ready to get down and dirty because grape picking and stomping are crowd favorite events each year. Hall says, "From picking in the vineyard to stomping the grapes, it's all about immersing yourself in Texas agriculture."
After the grape stomp, you'll enjoy a winery tour and wine tasting, have a delicious lunch prepared by one of Messina Hof's chefs, and finish the afternoon with a food and wine pairing class.
You won't want to miss out on the fun at the Harvest Festival, so be sure to get your tickets today! There are three options for adult tickets: The basic Harvest Pass comes in at $35 and includes general admission, a Harvest T-Shirt, Winery Tour and Wine Tasting. The $60 Harvest Plus Pass includes the Harvest Pass and a special reserved lunch buffet in the Gallery. Finally, the Harvest Ultimate Pass, which costs $80, and comes with everything the other ticket options include plus an exclusive Wine and Food Pairing class! The Children's Harvest Pass will cost you only $12 for kiddos 12 and under and includes a T-shirt.
Check out http://bit.ly/2M4NQFD for the complete Harvest Festival schedule of events and times! To purchase tickets for the Harvest Festival, please visit http://bit.ly/2Oa8lDG.