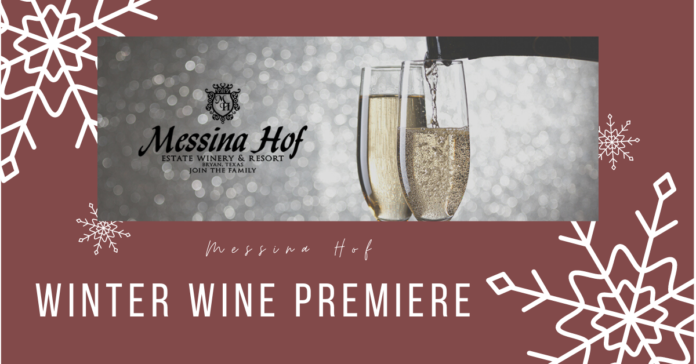 With the weather cooling down and the holidays fast approaching, Messina Hof offers the perfect event to celebrate the changing seasons—their Winter Wine Premiere on Saturday, November 7.
The Wine Premiere is your chance to experience their brand new wines from their premium wine collection over a satisfying five course meal at the biggest Texas wine release of 2020. The gourmet vineyard cuisine menu, put together exclusively for Wine Premiere, will be paired with Messina Hof's newly released vintages. The chef is hoping to prepare bacon wrapped quail for the first course, followed by a roasted veggie salad and a butternut squash bisque. The main entree is set to be a short rib, to be polished off with a dessert tartlet. Because the event is a wine premiere, the wine list will be revealed at the event.
The Messina Hof legacy was born 40 years ago when Paul Vincent and Merrill Bonarrigo began pioneering the Texas wine industry. Over time, the one-acre experimental vineyard has expanded to an additional two vineyards, allowing them to produce 1,300 gallons of wine in 1983—enough wine to produce Messina Hof's first commercial vintage. Messina Hof has expanded to produce 130,000 gallons of wine every year, and is consistently a frontrunner in the Texas wine industry.
The Winter Wine Premiere Dinner will take place on Saturday, November, 7 from 7-10 p.m. at The Gallery at Messina Hof Estate in Bryan, Texas. For tickets or more information on how to sign up call: (979) 778-9463 ext. 234 or email Messina Hof at event@messinahof.com.
Sources:
http://messinahof.com/events/post/winter-wine-premiere-6http://messinahof.com/history