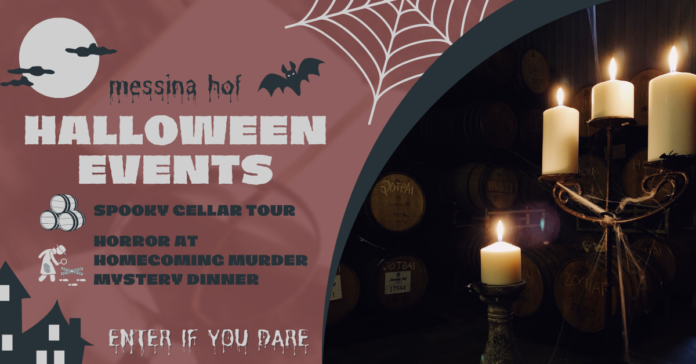 Some businesses just know how to party. For a spooktacular Halloween, join Messina Hof Winery at either their Spooky Cellar Tour or their Horror at Homecoming Murder Mystery Dinner and get your ghoulish spirit on.
Spooky Cellar Tour Oct. 29 & 30, 7-8:30 p.m.
If you're interested in spirits, of both the extraordinary and the alcoholic varieties, don't miss this chance to learn how Messina Hof makes their magic. With a glass of Sparkling Ghost Wine in your hand and in the company of your costumed guide, you'll first wander the vineyard, hearing lore of the area and learning how grapes grow. Then head to the Spooky Cellar Room and taste four varieties directly from the barrels and tanks. The tour comes to a spirited finish with one of their Papa Paulo Port chocolate truffles. Purchase tickets for $35.
Horror at Homecoming Murder Mystery Dinner on Oct. 30, 7-10. p.m.
Taking their cue from "dinner theater" events dating back to the Middle Ages, Messina Hof has put together an entertaining night of dinner, drinks, and terror.
Guided by a captivating host, guests will interact with each other to gather clues throughout the night's themed activities, and while most attendees will be searching for the killer, one will be looking to get away with their crime. Will it be you?
The stage is set with a simple yet enticing backstory. The past year has been one of many troubles for the town of Amorville. Mayhem High School, Amorville's local school, is riding a wave of school spirit with a successful football season, and the upcoming election for homecoming king and queen is building anticipation throughout the town. When the homecoming dance arrives, one guest does the unthinkable and must be brought to justice.
Attendees will be notified of their assigned character role before the date of the event, which gives time to choose a costume and truly get into character! Find out more and purchase tickets for $69.95  here.
If you're looking to truly immerse yourself in the spookiness of the Halloween season, Messina Hof Winery offers the ultimate opportunity!