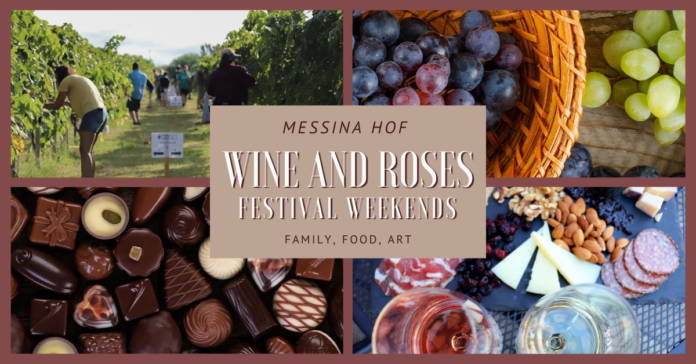 What's better than one weekend full of wine? A whole month full of wine! In lieu of the annual Wine and Roses Festival, Messina Hof wil be holding Wine and Roses Weekends this year, taking place throughout the month of April. Read below to learn more:
WINE & FAMILY WEEKEND APRIL 9-11
April 9: Wine and Chocolate Pairing
Kick off the first Wine and Roses Weekend with a delicious wine and chocolate pairing! As you indulge in sips and sweets, learn about the Bonarrigos, the founding family of Messina Hof, and the tales of making world class Ports and dessert wines over their four decade long history. Tickets for this event, either at 6-7 p.m., or 7:30 – 8:30 p.m., are available for $25.
April 10: Estate Winery Tour
If you have ever been interested in seeing how one of the oldest wineries in the state produces their award winning, 100% Texas wines, then this event is for you! Grab your favorite glass of Messina Hof wine and watch how it's made. After that, stroll through the never ending rows of vineyards, and walk around the spacious Estate. There are multiple tours throughout the day, and $20 tickets can be found here.
April 11: Waggles and Wine
On Sunday, load up your family, as well as the four-legged members, and head out to Messina Hof for an exciting day full of fun! Let your dogs mingle with other furry friends, and end the day with some yummy treats for both you and them. This event goes from 1-4 p.m., and is free for all ages!
WINE & FOOD WEEKEND APRIL 16-18
April 16: Wine and Cheese Paring
While chocolate and wine is good, nothing beats cheese and wine. On Friday, April 16, kick off the second Wine and Roses Weekend with an array of award-winning wines and artisanal cheeses to enjoy them with! As you indulge in these delicious pairings, learn from owner Karen Bonarrigo about how you can create your perfect wine and cheese board at home. This yummy paring will be held from 7-8:30 p.m., with $25 tickets for purchase.
April 17: Foodie Feast
End your Saturday at Messina Hof's Foodie Feast, an event fit for the whole family! Taking place outside at the Estate, the on-site chef will be whipping up some mouth-watering burgers, tasty sides, and will put his personal culinary flare on toppings, seasonings, and more. And of course, there will be wine for you to enjoy! Taking place from 5-8 p.m, tickets can be bought here for $39.95, plus tax and gratuity.
April 18: Cooking Party with the Chef
Whether you're a beginner or a pro at cooking up dishes in the kitchen, Messina Hof has got you covered! Join the Chef from 1-3 p.m. as he teaches you about different spices, cuts of meat, cooking tools, and everything else that makes you a great cook. Before you leave, make sure to grab a complementary recipe booklet so you can put your new skills to the test! Tickets for this event are $69.95, plus tax and gratuity.
WINE & ART WEEKEND APRIL 23-25
April 23: Spring Release Dinner
A highlight event of the Wine and Roses Weekends is the Spring Wine Release Dinner and Silent Auction from 7:30-9:00 p.m. Taking on the theme of "A Moment in Thyme," the night will be full of flavorsome wine, both new releases and vintage, appetizing cuisine, and beautiful art. Throughout the evening, enjoy the outdoor scenery, listen to live music, and place bids on items in the silent auction that will benefit the Arts Council of the Brazos Valley. The tickets for this event can be purchased here for $79.95, plus tax and gratuity, and includes admission, a five-course dinner, and wine.
April 24: Spring Market
Stop by Messina Hof for a one stop shop of local vendors and artisans. Enjoy a variety of food, flowers, creations, and other products for sale by people from around the BCS area as you sip and shop. From 1-5 p.m., this event is free and welcome to all ages!
April 25: Grape Stomp
End the Wine and Roses Weekends in a unique way with the return of the annual Messina Hof Grape Stomp Competition! Whether you want to stomp by yourself or you want to gather three of your closest friends to make a team of four, this event will be one that you will remember for ages! Choose from multiple time slots every 30 minutes throughout the day from 1-4. Tickets cost $25 per team.
Come out for just one event or stay the whole day and take in the vines and roses! It's the perfect way to celebrate spring!