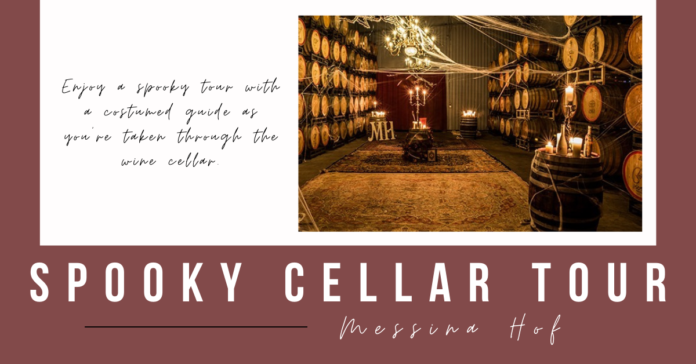 Get into the Halloween spirit the adult way, by enjoying a wine tasting with Messina Hof Winery and Resort at their annual Spooky Cellar Tour Oct. 23, 24 or 30 from 6:30-8:00 p.m.
Enjoy a spooky tour with a costumed guide as you're taken through the wine cellar, hearing the historical tales and lore of the winery and maybe even meeting a ghost or two. Visitors will also learn how Messina Hof's grapes grow and ferment to produce award-winning wines.
While on the tour, enjoy samples of four different wines directly from their tanks and barrels. The tour begins with a glass of Sparkling Ghost and ends with participants enjoying a Papa Paulo Port Chocolate truffle. All Halloween 2020 wines tasted that night will be available for purchase after the tour.
The Messina Hof Winery and Resort is a family-owned winery that has brought award-winning varieties of wine to the Bryan area for the past forty years. The family business is based on three core values: family, tradition, and romance. Gaining their first award in 1981 at the Texas State Fair, Messina Hof won a medal for their Black Spanish-Cabernet blend. Since then, the winery has received mass acclaim as well as many more awards for their wine.
The tour for the Oct. 24 date is already sold out, so get your fellow ghosts and ghouls together and buy tickets before it's too late!