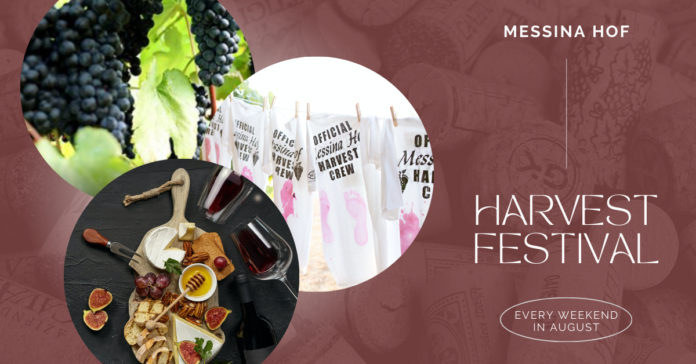 As the nights start to slowly lose their summer light, ripened grapes hang on the vines, ushering in harvest season. It's time to celebrate a year's worth of efforts with one of Bryan's most cherished and anticipated traditions: the Messina Hof Harvest Festival. With a wide range of daytime and evening events for the month, the festival has something for everyone to connect with while honoring the harvest season's storied history.
The Messina Hof Harvest Festival is split into four different weekends throughout August, ending August 28. Family-friendly grape picking and crushing events will happen each Saturday of the festival (August 7, 14, 21, 28) from 7:30-10 a.m. complete with "Harvest Crew" t-shirts with your own purple footprints, a tour of the Estate, and the option to upgrade your experience with a brunch box and glass of wine. Similar evening picking events under the moonlight will occur Friday, August 6, 20 and 27 from 7:30-9 p.m. with a delicious vineyard cuisine dinner and of course a wide selection of Messina Hof's famous wines to cap off the night.
If you have ever dreamt about gracing the silver screen as a character in a murder mystery movie, you're in luck. From 7-9 p.m. on Saturday, August 7 and 7:30-9 p.m. on Friday, August 13, Messina Hof will be hosting murder mystery dinners, giving you the chance to play a role in an exciting story with other guests! All participants will receive a character assignment before the event so plan ahead to have enough time to get your costume ready!
Connect with Messina Hof's Bonarrigo family with two special events hosted by owner Karen Bonarrigo and CEO Paul Bonarrigo! End the first weekend with a food and wine pairing event on August 8 from 11-12:30 p.m. hosted by Karen Bonarrigo as she gives you a fascinating insight into the world of food and wine pairing while providing tips to help you craft your own pairings at home. A one of a kind cellar tour and dinner hosted by Paul Bonarrigo will be held Saturday, August 21 from 7-9:30 p.m. as you tour the Estate while listening to stories about the Bonarrigo family and learn more about the winemaking process and the humble beginnings of Texas' most awarded winery. That same night you will also enjoy an appetizer and 3-course meal with Messina Hof wine inside the winery's candlelit Cellar Room.
Other events throughout the festival include an outdoor gourmet BBQ featuring classic Texas BBQ dishes surrounded by the beautiful views of the vineyard on Saturday, August 14 from 7-9:30 p.m., a vineyard cuisine brunch buffet on Sunday, August 22 from 11 a.m.-1 p.m., and the Harvest Festival Grand Finale Gala on Saturday, August 28 from 7-9:30 p.m. celebrating new wine releases while savoring a gourmet dinner prepared by the Vintage House Chef.
Come out and celebrate this year's 44th annual Harvest Festival with Bryan's beloved Messina Hof Winery! You can find exact details and ticket info by visiting their website. Prices vary with each event but act fast before tickets are gone!